SOS - Shinjinrui on Sumo

Chris Gould


Wrapping up his look at increasing the popularity of sumo, Chris Gould caps a series the NSK would do well to refer to.

Sumo Souvenirs

Mark Buckton


Souvenirs are a part of every sport and sumo is no different - or is it? A look at collectibles and the downright trashy, the bona fide versus the unproven.

Rikishi of Old

Joe Kuroda


Joe Kuroda's latest look at times past focuses on former makunouchi man Dewagatake.

Eric Evaluates

Eric Blair


Eric takes a no-nonsense look at the claims of fixed bouts in the Japanese media.

Rikishi Diary

Mark Kent


Mark Kent - English pro-wrestler and amateur heavyweight sumotori - takes us through the first month or so of his training and preparation for the various European events lined up in in 2007.

Heya Peek

Chris Gould


SFM's Chris Gould was in Japan for the Hatsu Basho and popped along to the new Shikoroyama Beya to give SFM an online exclusive peek into sumo's newest heya.

SFM Interview

Mark Buckton


Mark interviews Mark - Buckton on Kent that is as Mark Kent, the UK's only active heavyweight amateur answers a few questions on his own recent entry into the sport.

Photo Bonanzas
Sumo Forum stepped in to take the weight off the shoulders of SFM as far as Hatsu went so we could sit back, relax, enjoy the sumo and take a few more select pics you won't see anywhere else.

Hatsu Basho Summary

Lon Howard


Lon wraps the Hatsu Basho and chucks in a few bits on the rush of henka that threatens to sully the good name of at least one foreign ozeki.

Sumo Menko

Ryan Laughton


Sumo cards of old brought to life by expert collector Ryan Laughton. None of your BBM here.

Haru Ones To Watch

Carolyn Todd


Carolyn ponders and puts fingers to keys on the ones to watch come March and the Haru Basho.

Kimarite Focus

Mikko Mattila


Mikko's latest look at sumo's kimarite offers unequalled analysis and in depth explanations.

Amateur Angles

Howard Gilbert


Howard looks at the 'sumo factory' of lore - Nichidai.

Kokugi Konnections

Todd Lambert


Click on Todd's bimonthly focus on three of the best the WWW has to offer.

Fan Debate

Facilitator - Carolyn Todd


Moti Dichne comes back for more and takes on Bradley Sutton on the subject of 'Modernize the heya - yea or nay?'

SFM Cartoons



Benny Loh & Stephen Thompson


In this issue's cartoon bonanza, sit back and sample Benny's artistic offerings.

Sumo Odds & Ends


SFM's interactive elements - as always includes Henka Sightings, Elevator Rikishi and Eternal Banzuke!

Let's Hear From You
What was it that made you a sumo fan? Ryan Laughton - sumo fan and menko expert reveals all.

Readers' Letters
See what our readers had to say since we last hit your screens.

Sumo Quiz



The Quizmaster


Answer the Qs and win yourself a genuine banzuke.


Station, selling almost everything you can find in the actual stadium during honbasho, serve their purpose and undoubtedly fill a niche during the non-honbasho months, but the heart of sumo souvenirdom is to be had back indoors – back in the stadium proper – back within spitting distance of the dohyo




One small stall-cum-table top with accompanying shelf unit serves as the unofficial sumo-related bookstall during the 15 days of the basho with sumo directories, magazines and related CDs, DVDs and videos all for sale at relatively reasonable prices. Banzuke and even bintsuke, for those willing to take a passion for a sport just that little bit too far, round off the best selection of up-to-date sumo books for sale I have found in a decade of searching.

Admittedly far from comparable to the Sumo Museum exhibits ('Do not touch' signs notwithstanding) and the public libraries round Tokyo with their own outstanding collections of sumo literature, this is the ONE stop not to be missed if attending a basho and looking for something to last longer than a chocolate bar or rikishi-headed glove puppet – especially so if you don't live in Japan.

As with all sports though, there is, of course, a lot of 'kitsch' – some mentioned above - and most souvenirs can be easily ignored for the more serious fan but for kids there is something to attract all tastes – none of the little ones need go home empty handed and the parents won't be too depressed about the cost of it all.

For the 'fan's fan' though – the bona fide collector who supposedly knows his or her stuff, the pickings to be had are away from the Kokugikan, often buried away in the thousands of little shops in the nation's capital, but this is where the fun is to be had – and the key word is 'authentic'. This, however, is




where the problems start.




Who, in the Japanese capital, do you trust to sell you the real thing – the honmono? A professional with a quarter century of sumo deals behind him but no love of the sport? The man with the undocumented items (sadly much sumo has to offer is undocumented) that come tagged 'super rare' or 'highly collectible'?

Do we turn to Yahoo auctions or similar ? Are personal connections the way to go? The truth is out there, as Fox would say while taking a few moments off the quest to find his sister, but in reality, things need not be so difficult.

Genuine pieces CAN be had but primarily from the original source.

For sumo-related artwork look no further than the sport's premier artist Lynn Matsuoka. A long-term resident of Japan, quite literally married to the sport, Lynn has produced more sumo pieces over the years than any comparable artist – Japanese or otherwise.

The classics – tegata and even scrolls adorned with kanji said written by respected yokozuna - will come at a multiple zero premium and will always be touted as original but can the vendor prove it? Does he or she need to? Would a fake be worth producing?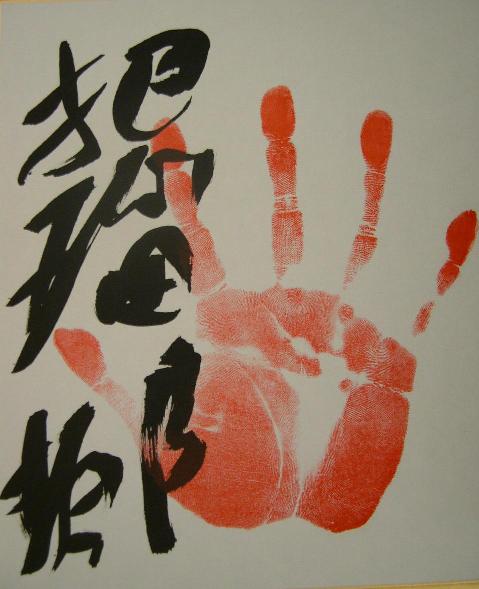 What back-up do you, the chap or chappess sat in the EU, America or other have that this is IT – the piece you have been searching for for so long?

As with any avenue of collecting it is necessary to be careful of the fakes and always ask for proof of purchase or better still authentication although a degree of flexibility is advisable given the nature of collecting oldies handed down and at some point sold to antique shops or involved in house clearances. Documents proving authenticity oftentimes just DO NOT EXIST.

One point anyone would do well to remember though is the need to treat with caution any source with a literal conveyer belt of 'rare' goodies. As soon as one is sold another comes on the market – via the same source? Time for the alarm bells to be ringing. Hmmmmm?




The times this writer has been offered sumo-related 'originals' / 'authentics' etc by such peddlers and has had such pieces checked by contacts in the know deep within the vaults of sumo history and antiquities in the NSK, he cannot recall. The times he has seen pieces authenticated thereafter he can – once.

In and of itself that should speak volumes. Volumes!

The business of sumo-related souvenirs above and beyond the fluff, mass-produced and offered in bulk, is a serious business, and only those with a source beyond reproach should enter. And, when you do, do so with eyes wide open.

Part II: Looking at the 'real deal' of sumo goodies in the next issue.




Home