Attention to Akeni

Carolyn Todd


SFM's newest addition to the writing staff takes an in-depth look at akeni, their history and production techniques

Rikishi of Old
Joe Kuroda
Joe Kuroda slides former yokozuna Minanogawa under his SFM microscope
Eric Evaluates
Eric Blair
Eric's wit scythes through the SML and makes clear his opinion of where the future lies for online sumo forums.
Eternal Banzuke Phase II

Lon Howard
Stats, equations and mathematics all lead to a list of sumo's most prolific up and downers
Heya Peek
Mark Buckton
Mihogaseki, former home of Estonian sekitori Baruto is toured (and peeked at) by SFM's Editor-in-Chief

Nagoya Basho Summary

Lon Howard


Lon gives us his Nagoya basho summary, along with the henka sightings results

Lower Division Rikishi
Mikko Mattila
Mikko Mattila casts his watchful eye over lower division goings on in makushita and below.

Aki Ones to Watch

Carolyn Todd


Carolyn takes over the job of rikishi job performance prediction for SFM as she looks at those to keep an eye on come September
Kimarite Focus
Mikko Mattila
Our man Mikko's latest trio of kimarite get thrown about the SFM literary dohyo
Amateur Angles
Howard Gilbert
Howard returns with the second of his columns on the amateur sumo scene.

Sumo Game
SFM's very own quiz comes in for a bit of self scrutiny by our secretive man of questions. We'll call him 'X'.
Sumo in Print

Barbara Ann Klein


SFM's Editor reviews "The Little Yokozuna", a book for "young" (and older) adults
Kokugi Connections
Todd Lambert
Check out Todd's bimonthly focus on 3 of the WWW's best sumo sites

Fan Debate


Facilitator - Lon Howard


Keri Sibley and Eduardo de Paz ponder the concept of 'to pay or not to pay' makushita salaries
SFM Cartoons


Stephen Thompson


Sit back and enjoy the offerings of one of sumo's premier artists
Lets Hear From You

What was it that made you a sumo fan? SFM's own Todd Lambert details his path into sumofandom
Sumo Quiz
The Quizmaster
Answer the Qs and win yourself next basho's banzuke.



The Little Yokozuna




have been given to some the children: Knuckleball (you can guess why), who, along with Kiyoshi-chan, the co-star of our adventure is also a baseball fan, but from a different era; Owen Greatheart, Q.J., Libby, aka "Squibber". But I think they will be enchanted, and at times, perhaps, somewhat frightened, with the situations in which the siblings and Kiyoshi-chan find themselves, from their first encounter with a demon warrior, to their mystical transfers from place to place; from a sojourn in Kyoto to a landing in a pitch black cave; and from Knucklehead's sumo lessons courtesy of Kiyoshi-chan to the ultimate sumo bout later on – and to the final adventure.

During the first chapter or two, I did get a bit lost in what was happening, but that all was sorted out soon enough. The author has a nice manner of writing and produces very vivid visuals with his descriptions. There are several Japanese terms throughout the story, most explained – some not. I guess it's a little difficult to explain some kimarite in simple enough English for a young Western child (and likely even a young Japanese child) to understand. A "home-grown" kimarite is used, to my delight, in a couple of instances.

I asked my friend's son what his favorite part of the book was, and he replied "the scary parts". Well, there are scary parts galore, so if you decide to give this book a go and present it to one of your favorite youngsters, be forewarned – this should not be read right before going to sleep!

Home

The Little Yokozuna
by Wayne Shorey

160 pages
2003 Tuttle Publishing

When a group of children is mysteriously transported from a museum garden into a fantastic world where the myths, magic, and spirits of traditional Japan have come to life, they find that escape isn't as simple as a phone call home.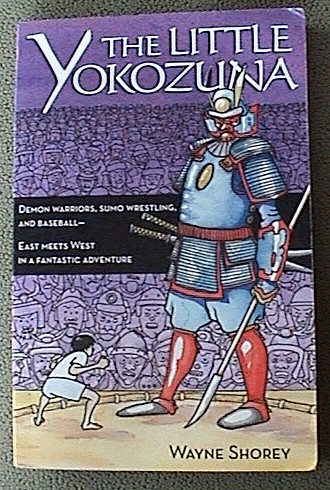 I received this book as a gift, in return for a bit of assistance I gave to a grade school teacher in New England. Seeing it was for "Young Adults", I thought I'd read it before giving it to my friend's 11-year-old son. Little did I know that I, myself, would be caught up in the sheer fantasy


and adventure this tale presents.

Secret gardens, a talking monkey who composes haiku, oni, (demons), and a young Japanese boy, Kiyoshi-chan, whose favorite sports are sumo and baseball - in that order- all have a hand in the fantastic journeys of the group of six siblings from Massachusetts in search of their little sister, Harriet, who disappeared while investigating a museum's Japanese garden.

As the story unfolds, we see the brothers and sisters, who, while traveling through the gardens, have been separated into pairs and now find themselves in various parts of Japan, both real and imaginary. Each couple's "landing" is fraught with peril, fear, wonder and surprise, representing a flight through both space and time. With the guidance of, Kiyoshi-san, the monkey, a very aged monk, and the Japanese boy's grandma, they eventually embark on a final quest that will take them in search of that one magical garden which will unite them with Little Harriet.

While the book may be named "The Little Yokozuna", sumo does not appear front and center very much, but when it does, there is, variously, comedy, courage and terror.

Kids will like the names that