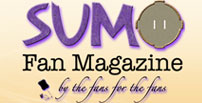 Sumo's

Foreign

Invasion




Mark Buckton


Sumo - still Japanese or truly International?

Rikishi of Old


Joe Kuroda


A look at a rikishi of yesteryear with Umegatani II our man for June

Heya Peek


John Gunning


John attends asageiko at Takasago-beya to give us the first of his bimonthly looks at sumo's stables

Photo Bonanza


Kurt Easterwood & Quinlan Faris


Kurt & Quin treat us to some of the best sumo pics around - and seen nowhere else

May Basho Review


Lon Howard & John Gunning


Lon gives us his Natsu Basho summary and his take on upset of the tournament while John chips in with his 'gem' of the basho

Lower
Division
Rikishi
Mikko Mattila
Mikko provides his round up of the boys in Makushita and below at the Natsu Basho
July Basho Forecast

Pierre Wohlleben & Mark Buckton
Pierre predicts the Nagoya Basho banzuke while Mark previews the ones to watch next time out
Sumo 101
Barbara Ann Klein
Rhyme and reason behind the pre-tachiai rituals that mystified us all as beginners
Kimarite Focus


Mikko Mattila


Mikko walks us through A, B & C
Minusha

John McTague
John's unique view of news from outside the dohyo
Las Vegas Jungyo Teaser



Ngozi Robinson


Months away but like kids at Christmas we are still too excited not to mention it
Online Gaming
Moti Dichne
Hear from the founder of Guess the Banzuke (GTB) on exactly what makes it tick
Le Monde Du Sumo
The original team at MDS tells us how it all started
Sumo Mouse



Todd Lambert


Heya Links Galore and a focus on 3
Fan Debate

JR & EB square off: Right or Left - which should Asashoryu use when receiving kensho?
Let's Hear from You

What was it that made you a sumo fan?
Ngozi Asks

Question of the month - What is Sumo?
Sumo Quiz
The Quizmaster
Answer the Qs and win yourself next basho's banzuke

Lower Division Rikishi
by Mikko Mattila





college guys. A fast and very strong rikishi who prefers migi-yotsu, he is also capable of oshi-sumo. After his Jonokuchi yusho at the March Haru basho he won 6 straight at Natsu basho before a surprise loss dropped him out of the yusho race. Kageyama, on the other hand, has won all his bouts so far excluding those against Sawai. He lost both at the Haru and Natsu bashos to Sawai but undoubtedly will get plenty of opportunities to get his revenge in the future as these two are headed places rapidly, providing they stay healthy. Kageyama himself was scouted by many of the professional stables and was considered one of the major talents of the decade. Already in possession of an impressive sumo physique at 187cm and 138kg, he favours yotsu-sumo. As Sawai beat Kageyama and then himself lost to Sandanme play-off rikishi Teruyama, the surprise yusho winner in Jonidan was Sawai's lesser known stablemate Kadomoto (20). Also sporting a good physique at 183cm and 151kg, Kadomoto has now won 12 bouts in a row since losing his first two bouts during his sumo debut at the Haru basho. Kadomoto lost to Kageyama at Haru but avoided facing him in May. While missing out on an oppurtunity at payback, he did beat former sekitori Towanoyama (6-1). Another former sekitori who is
Next
Home


While the Makuuchi division gets the majority share of media coverage and overall attention in ozumo, the breeding grounds for future Makuuchi rikishi are the lower divisions where college and high school rikishi, foreigners with great potential and physically apt teenagers fresh out of junior high school challenge each other and climb the ladder towards the salaried ranks.
Let's start with the lowest division of Jonokuchi where the May Natsu basho introduced many interesting newcomers: The yusho went to a college star, Nakanishi, whose physique (187cm, 160kg) provides a solid foundation for success in sumo. The 22-year-old former dorm mate of Makuuchi newcomer Katayama has substantial strength in migi-yotsu, but must improve his tachi-ai in order to utilize his strengths better. Already stating that his goal was to reach the Juryo division within 2 years, he made a good start with a 7-0 kachi-koshi record, in which he beat both Fukunaga and Maeta in what was their only defeat of the basho.
Maeta (22) is also a college rikishi and carries around a




massive 204kg packed onto a relatively short 179cm frame. Although he wasn't remarkably successful as an amateur, he has started well with a 6-1 in his debut tournament. Fukunaga (19) also notched up 6 wins in May but his physique may turn out to be a major obstacle later on when he climbs closer to Juryo. A mere 168cm and 111kg, he needs to rely on speed and technique, although he did achieve success at high school level sumo and was a rival of his current stablemate Sawai. Fukunaga defeated the young Russian behemoth Wakanoho (16), who weighs 144kg and is 193cm tall - a new foreign rikishi who started out with a loss but then won all 6 of his remaining bouts. He is definitely a rikishi to keep an eye on in the future.

In the Jonidan division, the spotlight was rightly on the magnificent duo of Sawai (19) and Kageyama (18). Both were very strong high school stars and rivals. Sawai won 11 national titles during his high school years and even reached the semifinals of the All Japan Sumo Championship in 2004, where he was the only high school student fighting amongst