Mark Buckton

In Sumo Fan Magazine's first ever sekitori interview, Editor-in-Chief, Mark Buckton was able to secure a slot in the busy schedule of the much sought after Estonian up and comer and, for now, Mihogaseki Beya man – Baruto ...

Read more...

Joe Kuroda

The 42nd yokozuna Kagamisato Kiyoji had the unmistakable appearance of a traditional sumo rikishi. If there was a miniature sumo doll model to be made, Kagamisato would have been the prototype ...

Read more...

Barbara Ann Klein

Going to asageiko at Kokonoe-beya is always a bit intimidating to me. Kokonoe Oyakata, the former great yokozuna, Chiyonofuji, has a very stern countenance as a shinpan ...

Read more...

Barbara Ann Klein

Tsunauchi-shiki – the tsuna making ceremony. You know what the tsuna is: that huge white "braided" rope that the yokozuna wears when he does his dohyo-iri, of course. Have you ever wondered ...

Read more...

Lon Howard

It didn't take long for the Natsu basho to dig itself a hole. By the end of day 3, the curtain had fallen on its two main attractions: Yokozuna Asashoryu had withdrawn because of an arm injury ...

Read more...

Mikko Mattila

In the Natsu basho, battered veterans Toki, Takanotsuru and Kinkaiyama finally succumbed to heavy injury burdens and withdrew from active sumo. In fact, Toki decided to retire just before ...

Read more...

Mark Buckton, Barbara Ann Klein

See the Natsu Basho as our Editors saw it, and a second bonanza relives the visit to Kokonoe-beya. Even another bonanza tells the story of making the Tsuna. Read more...

Benny Loh & Stephen Thompson

Look at the fifth of our cartoons bonanzas and see how Benny Loh saw the Natsu basho!

Lon Howard

SFM's ever growing interactive elements, now include letters sent in by SFM readers, Henka Sightings during honbasho, Elevator Rikishi and Eternal Banzuke!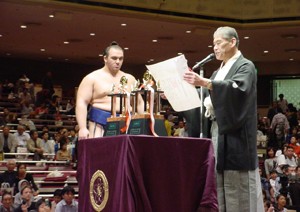 Sumo Fan Magazine, like all magazines, could
not and would not exist without its readers. To
that end, anything you think we should do, you
think we should cease to do or you think we should
never even think about doing, we want to know. Let
us know the aspects of SFM you like – articles, the
like of which, you'd like to read more of and articles
you'd never like to see again. Or, just tell us what
you want to say about sumo – we want to hear your
voice, too. As the logo at the top of our front page
says we are by the fans – FOR the fans – that's you.
We welcome your comments and will be featuring
some letters received in our soon-to-come "Letters"
feature. We may even be offering tokens of our
appreciation – sumo-related, of course, to a "Letter of
the Month". So, if you have something to say please
mail us at fan_liaison_director@sumofanmag.com.
Sumo Fan Magazine (SFM) logo and slogan are © Copyright 2005 by Sumo Fan Magazine. Furthermore, all submissions and other content found on this site are © Copyright 2005 SFM and the writers, photographers and artists who produced them, except where otherwise indicated. No part may be reproduced in any form, without express written permission of SFM.

You Could Be Advertising Here!


Editor-in-Chief and Creative Director – Japan
Mark Buckton

Editor
Barbara Ann Klein

Fan Liaison Director
Lon Howard

Staff Writers
Eric Blair
Howard Gilbert
Joe Kuroda
Todd Lambert
Brian Lewin
Mikko Mattila
Pierre Wohlleben

Proofreaders
Katherine Dee
Barbara Patten

Website System Admin & Hosting
Alisdair Davey

Magazine & Website Layout Designer
Jonas Lindström
Alexander Nitschke

Cartoonists
Benny Loh
Stephen Thompson

Staff Translators
Denis Chaton – French
Susanne Modregger – German
Juan Pablo Vieytes – Spanish


\n'); } var L10qstr,L10pc,L10ref,L10a,L10pg; L10pg=document.URL.toString(); L10ref=document.referrer; if(top.document.location==document.referrer || (document.referrer == "" && top.document.location != "")) {L10ref=top.document.referrer;} L10qStr = "pg="+escape(L10pg)+"&ref="+escape(L10ref)+"&os="+escape(navigator.userAgent)+"&nn="+escape(navigator.appName)+"&nv="+escape(navigator.appVersion)+"&nl="+escape(navigator.language)+"&sl="+escape(navigator.systemLanguage)+"&sa="+success+"&cR="+escape(cRef)+"&cRT="+escape(cRefType)+"&cPg="+escape(cPage); if(navigator.appVersion.substring(0,1) > "3") { L10d = new Date(); L10qStr = L10qStr+"&cd="+screen.colorDepth+"&sx="+screen.width+"&sy="+screen.height+"&tz="+L10d.getTimezoneOffset();} if((location.href.substr(0,6)=="https:") || (location.href.substr(0,6)=="HTTPS:")) { L10pc="https"; } else { L10pc="http"; } document.write('
');