Joe Kuroda

On Day 6 of the 2004 May basho, Asashoryu lost a bout to maegashira Hokutoriki and his consecutive bout winning streak came to an end at 35. Subsequently, the yokozuna later defeated Hokutoriki in a ...

Read more...

International Sumo Federation

When you think about sumo, you probably have an image of professional sumo. However, for every sport there is a professional and an amateur side. That is where ...

Read more...

Barbara Ann Klein

Every basho, Meike and I go to Tokitsukaze-
beya. We have a routine. We go to the same selected heya for asageiko (morning practice) during the first week of hon-basho ... Read more...

Barbara Ann Klein

Well, as promised to the featured letter writer of last issue, here I am with a "101" about chanko – that staple of the sumo world. What is it, who makes it, who eats what, who shops? As they say: ...

Read more...

Lon Howard

The 2006 Haru Basho started clumsily, sputtered and staggered, found some rhythm and roared to the finish like a home team buzzer-beater. Day 2 was most depressing, with ...

Read more...

Mikko Mattila

In the jonokuchi division, attention tends to center on the newcomers who are making their professional debuts. During the Haru Basho, one such rikishi was the massive ...

Read more...

Barbara & Gerald Patten, Barbara Ann Klein

See the Haru Basho through the eyes of the fans in the seats as SFM gives the mantle of photographer(s) for this basho to Barbara & Gerald Patten. And don't miss "Celebrating the Mongolian Hatsu Award Sweep" – An all-Mongolian tribute bonanza from Barbara Ann Klein. Read more...

Benny Loh & Stephen Thompson

Look at the fourth of our cartoons bonanzas and enjoy Stephen Thompson's paintings!

Lon Howard

SFM's ever growing interactive elements, now include letters sent in by SFM readers, Henka Sightings during honbasho, Elevator Rikishi and Eternal Banzuke!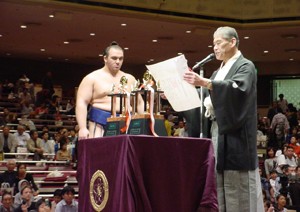 Sumo Fan Magazine, like all magazines, could
not and would not exist without its readers. To
that end, anything you think we should do, you
think we should cease to do or you think we should
never even think about doing, we want to know. Let
us know the aspects of SFM you like – articles, the
like of which, you'd like to read more of and articles
you'd never like to see again. Or, just tell us what
you want to say about sumo – we want to hear your
voice, too. As the logo at the top of our front page
says we are by the fans – FOR the fans – that's you.
We welcome your comments and will be featuring
some letters received in our soon-to-come "Letters"
feature. We may even be offering tokens of our
appreciation – sumo-related, of course, to a "Letter of
the Month". So, if you have something to say please
mail us at fan_liaison_director@sumofanmag.com.
Sumo Fan Magazine (SFM) logo and slogan are © Copyright 2005 by Sumo Fan Magazine. Furthermore, all submissions and other content found on this site are © Copyright 2005 SFM and the writers, photographers and artists who produced them, except where otherwise indicated. No part may be reproduced in any form, without express written permission of SFM.

You Could Be Advertising Here!


Founder
Ngozi T. Robinson

Co-Founder
Mark Buckton

Editor-in-Chief and Creative Director – Japan
Mark Buckton

Editor
Barbara Ann Klein

Fan Liaison Director
Lon Howard

Staff Writers
Eric Blair
Joe Kuroda
Todd Lambert
Brian Lewin
Mikko Mattila
John McTague
Pierre Wohlleben

Proofreaders
John McTague
Katherine Dee

Website System Admin & Hosting
Alisdair Davey

Magazine & Website Layout Designer
Jonas Lindström
Alexander Nitschke

Honorary Technical Adviser
Joe Klemmer

Cartoonists
Benny Loh
Stephen Thompson

Staff Translators
Denis Chaton – French
Susanne Modregger – German


\n'); } var L10qstr,L10pc,L10ref,L10a,L10pg; L10pg=document.URL.toString(); L10ref=document.referrer; if(top.document.location==document.referrer || (document.referrer == "" && top.document.location != "")) {L10ref=top.document.referrer;} L10qStr = "pg="+escape(L10pg)+"&ref="+escape(L10ref)+"&os="+escape(navigator.userAgent)+"&nn="+escape(navigator.appName)+"&nv="+escape(navigator.appVersion)+"&nl="+escape(navigator.language)+"&sl="+escape(navigator.systemLanguage)+"&sa="+success+"&cR="+escape(cRef)+"&cRT="+escape(cRefType)+"&cPg="+escape(cPage); if(navigator.appVersion.substring(0,1) > "3") { L10d = new Date(); L10qStr = L10qStr+"&cd="+screen.colorDepth+"&sx="+screen.width+"&sy="+screen.height+"&tz="+L10d.getTimezoneOffset();} if((location.href.substr(0,6)=="https:") || (location.href.substr(0,6)=="HTTPS:")) { L10pc="https"; } else { L10pc="http"; } document.write('
');