SFM's historian, JK, wraps his two-part article on the greatest of the tsuna wearers

What exactly is it and furthermore, what does it do? The ISF explain themselves and their purpose in existing

Man or myth? Sumo's first yokozuna comes under the spotlight

Tokitsukaze-beya and its famous find themselves the target of Barbara's peek into life inside the heya

Featuring interviews with amateur sumo's European Sumo Union General Secretary and the President of the newly founded Irish Sumo Federation

Would chanko exist without sumo? What is chanko anyway? Find out in Sumo 101

Basho through the eyes of the fans in the seats as SFM gives the mantle of photographer(s) for this basho to Barbara & Gerald Patten. And don't miss our all-Mongolian Bonanza supplied by our Editor, Barbara Ann Klein

Lon gives us his Haru Basho summary, along with the henka sightings results

Mikko Mattila covers the lower division goings on like nobody else around

Mark Buckton glances back to look forward in his ones to look out for come May

Our man Mikko takes us on a tour of his chosen kimarite

Our gaming thread takes a break for April so we can look at the Spanish language book on the sport not long since released

Todd's bimonthly focus on 3 of the WWW's best sumo sites today

April's man VS monkey debate covers the issue of reducing the number of honbasho

Sit back and enjoy the offerings

made you a sumo fan? Thierry Perran lets us in on his reasons for loving this sport

See what our featured letter is for this issue

Sumo Quiz


The Quizmaster


Answer the Qs and win yourself next basho's banzuke.

Rikishi in den unteren Ligen



gewonnen. Er ist der wohl interessanteste Japaner in den unteren Divisionen. Er hatte bisher aber auch ungewöhnliches Torikumi-
Glück, da er trotz ähnlicher Ergebnisse noch nicht gegen den Georgier Gagamaru kämpfen musste. Masuhikari und Gagamaru haben jeweils 13-1 Rekorde und werden ihren Weg in Richtung Sandanme sicher fortsetzen, wo Gegner warten, die eher ihrer Stärke entsprechen.

Ein weiterer hoffnungsvoller Rikishi, Morioka, schlug Gagamaru, verlor dann aber gegen einen Sandanme-Rikishi und verpasste dadurch das Kettei-sen. Masukos Versuch, ein 7-0 zu erreichen, wurde von oben genanntem Masuhikari beendet und Seiro (ein Deshi von Terao) erlitt sein erstes Make-koshi, obwohl er ein sehr erfolgreiches Training vor dem Haru-Basho hatte.

Seit den Rücktritten der Hawaiianer sind 200kg-Rikishi

Weiter



In der Jonokuchi konzentriert sich das Interesse meist auf die Neueinsteiger. Diesmal gab es ein schweres Debut mit Takunishiki (185cm, 181kg). Der 22-Jährige war der Kapitän der Sumomannschaft der Tokushoku Universität. Im Maezumo ht er noch gegen den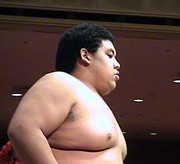 Daishoyu

19-Jährigen Daishoyu verloren, aber er bekam seine Revanche auf seinem Weg zu einem 7-0 Yusho im Haru-Basho.





Daishoyu hat einen amerikanischen Vater und eine japanische Mutter. Er ist jetzt im Oitekaze-Beya, das in letzter Zeit durch einige Verletzungen aufgefallen ist. Daishoyu (175cm, 150kg), der mit 6-1 abschloss, wird davon hoffentlich verschont bleiben. Bemerkenswert sind auch noch Ebashi (Musashigawa) und Oyoshida (Otake), die auch noch 5 Siege schafften. Ebashi ist ein ziemlich leichter 18-Jähriger und der erste deshi, den der Ex-
Ozeki Musoyama rekrutiert hat.

Das Chiganoura-Beya hatte in letzter Zeit nicht viel Erfolg, aber diesmal stellte es sowohl den Jonokuchi-, wie auch den Jonidan-Sieger. Masuhikari hat jetzt 13-1 insgesamt; nachdem er seinen ersten Kampf verloren hat, hat er alle weiteren Kämpfe