SFM's historian, JK, wraps his two-part article on the greatest of the tsuna wearers

What exactly is it and furthermore, what does it do? The ISF explain themselves and their purpose in existing

Man or myth? Sumo's first yokozuna comes under the spotlight

Tokitsukaze-beya and its famous find themselves the target of Barbara's peek into life inside the heya

Featuring interviews with amateur sumo's European Sumo Union General Secretary and the President of the newly founded Irish Sumo Federation

Would chanko exist without sumo? What is chanko anyway? Find out in Sumo 101

Basho through the eyes of the fans in the seats as SFM gives the mantle of photographer(s) for this basho to Barbara & Gerald Patten. And don't miss our all-Mongolian Bonanza supplied by our Editor, Barbara Ann Klein

Lon gives us his Haru Basho summary, along with the henka sightings results

Mikko Mattila covers the lower division goings on like nobody else around

Mark Buckton glances back to look forward in his ones to look out for come May

Our man Mikko takes us on a tour of his chosen kimarite

Our gaming thread takes a break for April so we can look at the Spanish language book on the sport not long since released

Todd's bimonthly focus on 3 of the WWW's best sumo sites today

April's man VS monkey debate covers the issue of reducing the number of honbasho

Sit back and enjoy the offerings

made you a sumo fan? Thierry Perran lets us in on his reasons for loving this sport

See what our featured letter is for this issue

Sumo Quiz


The Quizmaster


Answer the Qs and win yourself next basho's banzuke.

Lower Division Rikishi



the second basho in a row. In the Hatsu Basho it was Masuhikari who suffered a surprise loss, and this time, Gagamaru lost to Morioka and never faced Masuhikari. Both Masuhikari and Gagamaru have 13-1 records now and will continue up to sandanme to face a more challenging group of opponents in the Natsu Basho. Nevertheless, Gagamaru had had good success against Morioka at the training sessions of the sumo school held for new entrants and was regretting his loss to his classmate.

Other recent prospects performed well, too. Morioka beat Gagamaru and was at 6-0 before ruining his chance to get into a play-off by losing to a sandanme rikishi. Small Masuko, who upset Masuhikari in the Hatsu Basho, also went 6-1 after getting manhandled by Masuhikari with oshitaoshi in a yusho-deciding bout on day 13. Terao's deshi, Seiro, suffered his first make-koshi despite diligent keiko activity prior to the basho.

Since the retirements of the Hawaiian giants, 200kg rikishi

Next



In the jonokuchi division, attention tends to center on the newcomers who are making their professional debuts. During the Haru Basho, one such rikishi was the massive (185cm, 181kg) 22 year-old Takunishiki, who was the captain of Takushoku University's sumo club before entering ozumo. He lost to Daishoyu in maezumo in Hatsu, but had his revenge by beating him on the way to a 7-0 yusho.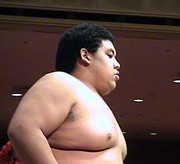 Daishoyu

Daishoyu is a 19 year-old whose father is American and mother, Japanese. He joined Oitekaze-
beya and hopefully can avoid some of the plague of injuries




that seems to have made life on the dohyo difficult for the boys from that stable. He won all of his other bouts except the one against Takunishiki. Daishoyu, himself, is also quite heavy, housing 150kg in a relatively short frame, 175cm. Ebashi from Musashigawa-beya and Oyoshida from Otake-beya were the other two newcomers who managed to score more than 4 wins. Ebashi is a lightweight 18 year-old who was scouted by the former Musoyama.

Chiganoura-beya hasn't had much success so far, but both jonokuchi and jonidan yusho winners belong to that stable. Masuhikari stretched his winning streak to 13 since his loss on shonichi (first day) of the Hatsu Basho. Masuhikari has evidently been the leading Japanese rikishi in the lowest divisions and is rising quickly through the ranks, and due to the luck of the banzuke, he wasn't matched against the young Georgian, Gagamaru, for