Brothers still active on the dohyo get their turn

SFM's most eminent historian, JK, has a crack at the impossible and tries to see who was the greatest of the tsuna wearers

Takanobori – former sekiwake, former NHK man and all 'round gent

Kitanoumi-beya, Kitazakura, mirrors & photo bonanza

Kazuyoshi Yoshikawa (son of the late sekiwake Takanobori) on life in sumo way back when

Behind every good man there stands a good woman – read and ye shall see. A departure from our regular 101 feature

plus much more through the lens of our photographers

Lon gives us his Hatsu Basho summary, along with the henka sightings results

Mikko Mattila covers lower division goings on in detail

Pierre predicts the Haru Basho banzuke while Mark highlights the ones to look out for in Osaka

Mikko takes us on a tour of his chosen kimarite

John's unique bimonthly view of sumo news from outside the dohyo and in the restaurants!

SFM's own Alexander Nitschke covers the long running Hoshitori Game

Todd's bimonthly focus on 3 of the most interesting sumo sites today

a pair of Kiwis exchanging opinions on the honbasho going on the road

SFM Cartoons


Benny Loh & Stephen Thompson


In the third of our cartoon bonanzas, sit back and enjoy BL's offerings and put a caption to ST's pic to win yourselves a banzuke

made you a sumo fan? A unique perspective from a sightless reader.

readers had to say since our last issue

Sumo Quiz


The Quizmaster


Answer the Qs and win yourself next basho's banzuke.

A Shot at the Impossible – Yokozuna Comparison Through the Ages – Part 1



Taiho won six straight between
March '66 and January '67 and Tamanoumi did the same from September '70 to July '71.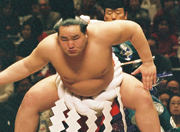 Asashoryu Akinori (photo by Barbara Ann Klein)



The question always lingers, though, of just how practical it is to compare the records of these men as, when Taiho won six straight, he did so against a number of formidable opponents, namely the 47th yokozuna Kashiwado (1938-1996), the 49th yokozuna Tochinoumi (1938- ), the 50th yokozuna Sadanoyama (1938- ),
then ozeki (later yokozuna Tamanoumi) Tamanoshima and the 55th yokozuna Kitanofuji (1942- ).

Kitanoumi, in winning his own 'six' had to face the 54th yokozuna Wajima (1948– ) and the 56th yokozuna (current Magaki Oyakata) Wakanohana II (1953- ), as well as future yokozuna Mienoumi and Chiyonofuji, and famed ozeki Takanohana and Kotokaze.

Tamanoumi's opponents

Next



At the Prime Minister's Official Residence, Japanese Prime Minister Junichiro Koizumi presented the Japan Pro-Sports Award's Prime Minister's Cup to the 2005 winner yokozuna Asashoryu on January 24, 2006. Asashoryu was recognized by the selection committee for his unprecedented seven consecutive yusho (including six in one year). Asashoryu became the first rikishi to win six yusho in a year while winning 84 bouts, two more than the previous record. "This is simply a great accomplishment. These are records that may not be broken for 10, 20 or even 30 years," Koizumi told the gathering as he handed out the award to Asashoryu.

Let's take a moment first to review Asashoryu's records from the 2004 Kyushu Basho to the 2005 Kyushu Basho:

As table 1 shows, Asashoryu won 97 out of 105 bouts. His 84 bouts in one year record broke the previous record of 82 victorious bouts in a calendar year held by the 55th yokozuna Kitanoumi. Even the 48th yokozuna Taiho (1940- ), often





known as "The Greatest Yokozuna of the Showa era (1926-1988)", only managed 81
bouts in a single year – a feat he achieved in 1963.

In addition, Asashoryu's 'most consecutive yusho' record – seven straight – is also worthy of special note, as is Asashoryu becoming the first rikishi to ever
win all six basho in a single year.

Table 1 – Asashoryu's record from 2004 November to 2005 November

| Basho | Record |
| --- | --- |
| 2004 Nov | 13 wins 2 losses |
| 2005 Jan | 15 wins 0 loss |
| 2005 Mar | 14 wins 1 loss |
| 2005 May | 15 wins 0 loss |
| 2005 Jul | 13 wins 2 losses |
| 2005 Sep | 13 wins 2 losses |
| 2005 Nov | 14 wins 1 loss |

During his six-basho winning streak from September '77 to July '78, yokozuna Kitanoumi won 85 bouts, while Asashoryu won 84 bouts in the six basho of 2005. Both Taiho and the 51st yokozuna Tamanoumi (1944–1971) won 84 bouts in a consecutive six-basho period.