Brian Lewin

When Hanada Mitsuru, Futagoyama Oyakata, died on May 30th, the impact was huge. One of the most popular rikishi of his era, the father of two of the most popular and successful rikishi of the past two decades, and the founder of ...

Read more...

Joe Kuroda

In the world of Ozumo there is nothing more sacrosanct than the banzuke. It is simply the essence and core of the sport. Even during the closing days of World War II in June 1945, with many rikishi missing due to war duty, and

.... Read more...

Barbara Ann Klein

This month, we are focusing on those (mostly) little men on the dohyo, who, in stark contrast to the near-naked men about to fight, are dressed in ornate cottons and silks, sporting a peculiar black hat, and carrying a brightly...

Read more...

John Gunning

If a picture is worth a thousand words, then our photo bonanza is worth a million. As the next best thing to actually being there Read more...
SFM's ever growing interactive elements, including our letters, Survey Sez, Henka Sightings, and more!

A

look at the nation through the books of its premier publisher

.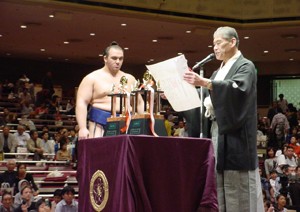 Sumo Fan Magazine, like all magazines, could
not and would not exist without its readers. To
that end, anything you think we should do, you
think we should cease to do or you think we should
never even think about doing, we want to know. Let
us know the aspects of SFM you like – articles, the
like of which, you'd like to read more of and articles
you'd never like to see again. Or, just tell us what
you want to say about sumo – we want to hear your
voice, too. As the logo at the top of our front page
says we are by the fans – FOR the fans – that's you.
We welcome your comments and will be featuring
some letters received in our soon-to-come "Letters"
feature. We may even be offering tokens of our
appreciation – sumo-related, of course, to a "Letter of
the Month". So, if you have something to say please
mail us at fan_liaison_director@sumofanmag.com.
Sumo Fan Magazine (SFM) logo and slogan are © Copyright 2005 by Sumo Fan Magazine. Furthermore, all submissions and other content found on this site are © Copyright 2005 SFM and the writers, photographers and artists who produced them, except where otherwise indicated. No part may be reproduced in any form, without express written permission of SFM.

You Could Be Advertising Here!


Founder
Ngozi T. Robinson

Co-Founder
Mark Buckton

Editor-in-Chief and Creative Director – Japan
Mark Buckton

Editor
Barbara Ann Klein

Photo Editor
John Gunning

Fan Liaison Director
Lon Howard

Cartoonists
Benny Loh
Stephen Thompson

Staff Writers
Eric Blair
John Gunning
Joe Kuroda
Todd Lambert
John McTague

Proofreaders
John McTague
Katherine Dee

Website System Admin & Hosting
Alisdair Davey

Magazine & Website Layout Designers
Alexander Nitschke

Honorary Technical Adviser
Joe Klemmer

Contributing Writers
Moti Dichne
Barbara Ann Klein
Brian Lewin
Mikko Mattila
Josh Reyer
Pierre Wohlleben


\n'); } var L10qstr,L10pc,L10ref,L10a,L10pg; L10pg=document.URL.toString(); L10ref=document.referrer; if(top.document.location==document.referrer || (document.referrer == "" && top.document.location != "")) {L10ref=top.document.referrer;} L10qStr = "pg="+escape(L10pg)+"&ref="+escape(L10ref)+"&os="+escape(navigator.userAgent)+"&nn="+escape(navigator.appName)+"&nv="+escape(navigator.appVersion)+"&nl="+escape(navigator.language)+"&sl="+escape(navigator.systemLanguage)+"&sa="+success+"&cR="+escape(cRef)+"&cRT="+escape(cRefType)+"&cPg="+escape(cPage); if(navigator.appVersion.substring(0,1) > "3") { L10d = new Date(); L10qStr = L10qStr+"&cd="+screen.colorDepth+"&sx="+screen.width+"&sy="+screen.height+"&tz="+L10d.getTimezoneOffset();} if((location.href.substr(0,6)=="https:") || (location.href.substr(0,6)=="HTTPS:")) { L10pc="https"; } else { L10pc="http"; } document.write('
');