Sumo Art - a world of its own

Chris Gould


Sumo art is truly a world in and of itself. Read this piece to brush up on points you already know or pick up nuggets of info on this little known aspect of the sport that will send you to bed a wiser boy or girl.

SFM Interview

Mark Buckton


The world's premier sumo artist, Lynn Matsuoka answers Qs on the whys and wherefores surrounding sumo art, her life in and around Japan and the sport she has helped take global on canvas.

SFM Interview 2

Mark Buckton


Sumo artist Hiroko Kimatsu may be a name unknown to many but that won't stay the same for long.

The Shiranui Curse

Chris Gould


Make up your own mind about the so called Shiranui Curse - fact or fiction? CG reveals a few of the things you might have known and plenty you likely didn't to let you, the jury, ponder this one.

Rikishi of Old

Joe Kuroda


Joe's look at a rikishi of times gone by this issue focuses on yokozuna #44, Tochinishiki, half of the famed Tochi-Waka (Wakanohana I) pairing - and the slightly more dominant of the two.

Fan View

Caroyln Todd


SFM's 2IC, Caroyln Todd steps up to the plate and explains just what sumo fandom means to her.

Eric Evaluates

Eric Blair


Eric slams the yen hunters only here for the money in his latest take on sumo and its modern surrounds.

What do the Japanese really think?

Various writers


A few thoughts and many things to ponder from the locals as Japanese writers contribute to let us know how they see sumo and its role in their society in the early 21st century.

Nagoya Basho Summary

Lon Howard


Lon takes a look back at the July Nagoya Basho - Hakuho's first as yokozuna and one that was oh so eventful all round.

Aki Basho - Ones To Watch

Alexander Herrmann


SFM's German translator extroadinairre Alexander Herrmann suggests a few rikishi to keep an eye on come September and sumo's return to Tokyo.

Photo Bonanzas

Carolyn Todd / Mark Buckton


SFM's new Ed, Carolyn Todd and Ed-i-C Mark Buckton get together to bring you a brilliantly eclectic handful of images - some old, some new but all somehow connected to sumo that may have otherwise ended up on the cutting room floor.

Sumo Menko - ID techniques

Ryan Laughton


Menko man Ryan Laughton gives budding collectors and experts alike a few tips on how to best go about identifying the menko you have in front of you.

Amateur Angles

Howard Gilbert


Howard Gilbert, SFM's resident expert on Amateur Sumo starts the build up to this year's Sumo World Championships in Thailand with a rundown on the Europeans to keep an eye out for.

South American Sumo Championships

Federico Quiroga


Quite probably the first ever report on events in amateur sumo down in South America - with an unequalled bonanza to boot!

European Sumo Championships

Sébastien Iniesta


The first Frenchman in years to enter the Euro ama-scene - Mr. Sébastien Iniesta takes us all along on his recent trip to compete (and referee!) and survive in Budapest, Hungary. (Pt.1 of 2)

Rikishi Diary

Mark Kent


Mark Kent - English pro-wrestler and amateur heavyweight sumotori on his quest for national and world glory on the amateur dohyo

Heya Peek

Heya Peek will be taking a break this issue but with SFMers set to visit more than a few heya in the coming weeks is set to return for Issue 15 - due on screens near you, pre-Kyushu - October 29th.

Kokugi Konnections

Todd Lambert


Click on Todd's latest selection of three (plus one) of the best sumo sites online today.

Morph Corner

Olivia Nagioff


The global exclusive sumo morphing - yet to appear in 'coincidentally similar' version anywhere else - has to be seen to be believed.

SFM Cartoons

Benny Loh & Stephen Thompson


In this issue's cartoon bonanza, sit back and sample SFM's latest artistic offerings.

Sumo Odds & Ends
SFM's interactive elements - as always includes Henka Sightings, Elevator Rikishi and Eternal Banzuke - and with a new man aboard the SS SFM - Ben Doolan of Australia!

Let's Hear From You
What was it that made you a sumo fan? Phil Sherman spills the beans to SFM.

Readers' Letters
See what our readers had to say since we last hit your screens - with letters this time from Kobe in Japan and Indonesia - not in Japan.

Sumo Quiz

The Quizmaster


Answer the Qs and win yourself a genuine banzuke.


News Snippets!
Carolyn Todd


Our Editor sums up the contents of this issue of Sumo Fan Magazine and also the goings-on in the wider sumo world.
Read more...

Chris Gould


It towers over us at Ryogoku station, welcomes us in the Kokugikan entrance hall, overhangs us in the Kokugikan arena and adorns the backs of our English-language matchday programmes. Sumo art is everywhere....Read more...

Mark Buckton


Renowned sumo artist Lynn Matsuoka rarely gives full on interviews so here at SFM we count ourselves particularly lucky to be able to bring you an interview with a self made, global leader in sumo art.
Read more...

Olivia Nagioff


See what happens when a rikishi sneezes!
See more...

Howard Gilbert


European athletes and fans would have been disappointed to learn that they will once again have to travel half way around the world to compete in the World Sumo Championships.
Read more...

Chris Gould


Many sumo lovers have heard of the 'Curse of the Shiranui,' but what is the evidence behind the claim? Chris Gould looks at the unlucky yokozuna who have been reduced to a Shiranui shambles.
Read more...

Joe Kuroda


The 44th yokozuna Tochinishiki was part of one of the golden ages of Ozumo with his hard-fought battles against rival yokozuna Wakanohana. Just after the end of World War II, their exploits on the dohyo provided a sense of relief from the daily grind to a Japanese society on the look out for renewed hope and prosperity.
Read more...

Mark Kent


Our rikishi diarist celebrates his birthday in style with a sumo cake! Feast your eyes!
Read more...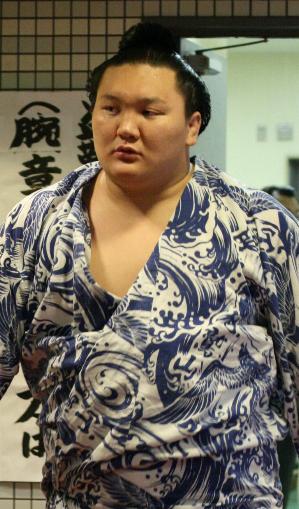 Sumo Fan Magazine, like all magazines, could
not and would not exist without its readers. To
that end, anything you think we should do, you
think we should cease to do or you think we should
never even think about doing, we want to know. Let
us know the aspects of SFM you like - articles, the
like of which, you'd like to read more of and articles
you'd never like to see again. Or, just tell us what
you want to say about sumo - we want to hear your
voice, too. As the logo at the top of our front page
says we are by the fans - FOR the fans - that's you.
We welcome your comments and will be featuring
some letters received in our soon-to-come "Letters"
feature. We may even be offering tokens of our
appreciation - sumo-related, of course, to a "Letter of
the Month". So, if you have something to say please
mail us at editor@sumofanmag.com.
Sumo Fan Magazine (SFM) logo and slogan are © Copyright 2005 by Sumo Fan Magazine. Furthermore, all submissions and other content found on this site are © Copyright 2005 SFM and the writers, photographers and artists who produced them, except where otherwise indicated. No part may be reproduced in any form, without express written permission of SFM.

You Could Be Advertising Here!


SUMO ARTIST
Lynn Matsuoka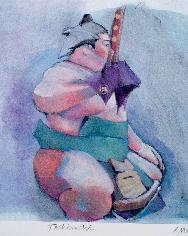 Asanowaka was a classic looking figure in sumo, and briefly carried the sword during Akebono's dohyo-iri. He was incredibly funny and would say some things other rikishi wouldn't dare say. He was, of course, famous for his froglike shikiri for which the Kyokai kept reprimanding him, the crowd loved it! This ink jet print, ed. 100, 9.5 x 11 inches is signed and numbered by the artist, available for $550. from the studio. Please contact artist@aloha.net
Editor-in-Chief and Creative Director – Japan
Mark Buckton
Editor
Carolyn Todd
Assistant Editor
Olivia Nagioff
Staff Writers
Eric Blair
Howard Gilbert

Chris Gould

Lon Howard

Joe Kuroda
Todd Lambert
Ryan Laughton


Website System Admin & Hosting
Alisdair Davey
Magazine & Website Layout Designer
Olivia Nagioff


Cartoonists
Benny Loh
Stephen Thompson


Staff Translators
Denis Chaton – French
Alexander Herrmann – German

Juan Pablo Vieytes – Spanish
Eduardo de Paz - Spanish


\n'); } var L10qstr,L10pc,L10ref,L10a,L10pg; L10pg=document.URL.toString(); L10ref=document.referrer; if(top.document.location==document.referrer || (document.referrer == "" && top.document.location != "")) {L10ref=top.document.referrer;} L10qStr = "pg="+escape(L10pg)+"&ref="+escape(L10ref)+"&os="+escape(navigator.userAgent)+"&nn="+escape(navigator.appName)+"&nv="+escape(navigator.appVersion)+"&nl="+escape(navigator.language)+"&sl="+escape(navigator.systemLanguage)+"&sa="+success+"&cR="+escape(cRef)+"&cRT="+escape(cRefType)+"&cPg="+escape(cPage); if(navigator.appVersion.substring(0,1) > "3") { L10d = new Date(); L10qStr = L10qStr+"&cd="+screen.colorDepth+"&sx="+screen.width+"&sy="+screen.height+"&tz="+L10d.getTimezoneOffset();} if((location.href.substr(0,6)=="https:") || (location.href.substr(0,6)=="HTTPS:")) { L10pc="https"; } else { L10pc="http"; } document.write('
');