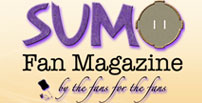 What Will Become of the Dynasty?
Brian Lewin
The Hanada Dynasty – past or present?

Rikishi of Old
Joe Kuroda
A look at a rikishi of yesteryear with Tenryu our man for August.

Heya Peek
John Gunning
John attends a chanko session at Chiganoura Beya.

Photo Bonanza
For a glimpse at some of the sights you won't see on TV.

July Basho Review
Lon Howard & John Gunning
Lon gives us his Nagoya Basho summary and his take on upset of the tournament while John chips in with his 'gem' of the basho.

Lower Division Rikishi
Mikko Mattila takes a break and Eric Blair covers the lower divisions in his own 'unique' way.

Aki Basho Forecast
Pierre Wohlleben & Mark Buckton
Pierre predicts the Aki Basho banzuke while Mark previews the ones to watch next time out.

Sumo 101
Barbara Ann Klein
Gyoji goings on and several things you never knew about the ones officiating.

Kimarite Focus
Mikko Mattila
Mikko walks us through his 2 chosen kimarite.

Minusha
John McTague
John's unique view of news from outside the dohyo.

Boletín de Sumo en Español
Eduardo de Paz Gútiez
An article on sumo's very first fan mag – Boletin de Sumo en Espanol

Online Gaming
Jezz Sterling
Hear from the founder of Bench Sumo of one of sumo's most popular games.

Kokugi Connections
Todd Lambert
Todd's focus on 3 of the most interesting online sumo sites today.

Fan Debate
Henka – good, bad or ugly? See what our debaters think.

Let's Hear From You
What was it that made you a sumo fan – the Petros Zachos story.

Ngozi on the Road
Ngozi T. Robinson
NTR visits an amasumo event in the north-east U.S. and tells us what it was like.

Sumo Quiz
The Quizmaster
Answer the Qs and win yourself next basho's banzuke.

Nagoya Basho Wrap-Up
by Lon Howard





only after blowing up that 'last' chance right from shonichi? Why should Wakanosato also be written off as an ozeki candidate, after posting 11-4? Well, he's never had more than 11 wins anywhere in makuuchi, has not had a winning record in sanyaku since last November, and when suddenly tied for the lead on day 12, stiffened like piling against a loosey-goosey Kotomitsuki, now freed from the burden of his own ozeki quest. His 11-4 flash was just that, when you consider he must do it twice more to have his name even whispered for promotion. Both men are 29 and counting, and there have only been two ozeki in the past 47 years who were older than that when first promoted (Kirishima and Masuiyama II). Yes, I'll continue to admire their sumo when it's excellent, but it won't be hard remaining sober while doing so.
Then there's Miyabiyama. Though expectations for him were more muted, I thought he might still defend sanyaku, especially after three straight 9-6 outings at sekiwake just last year – but no more. His last three basho have been duds, culminating with Nagoya's 7-win clunker at komusubi, including a fusen-sho win over Chiyotaikai. The brisk tsuki-oshi attacks which carried him through that sekiwake

Next Home



Each fan takes his or her own special something from any given basho and for this writer, in Nagoya, it wasn't that senshuraku actually meant something for a change, though it was refreshing and desperately needed. No – what I will remember Nagoya '05 for are the six rikishi I just wrote off after it was all over. These are men some of us hoped might still accomplish something further, not ones like Chiyotaikai, Tochinonada and Takamisakari, who we've known for some time, have shown us all they can.

As early as day 2, Asashoryu revealed he might be vulnerable, as he committed two uncharacteristic errors against Roho while winning anyway. It finally caught up with him, as he lost twice but took home the Emperor's Cup again by coming through at the end against Kaio and Tochiazuma when it counted. Five straight yusho and counting – only three losses this year and possibly counting.

For many fans the most compelling story in makuuchi was the parade of injured





rikishi who couldn't post a complete basho – ten in all – easily the most since kosho was abolished two years ago. It threw the basho onto another track, sidelining three joi jin including ozeki Chiyotaikai (3-6-6) and sekiwake Hakuho (6-3-6). Hakuho was having another splendid outing but Chiyotaikai's strategy was mystifying. In May, the hobbled ozeki effectively used inventive slip-sliding sumo to fight off kadoban, but this time in even worse condition, he curiously reprised his signature tsuppari, sending himself reeling instead of his opponents. His eighth kadoban at Aki will set a record, and one wonders what sort of torikumi he will employ.
So which six guys are off my watch list? Let's start with Kotomitsuki and Wakanosato. They both added to the same resume – if a brass ring beckons, their eyes grow large and their minds go vacant. Kotomitsuki himself said before the basho this was his last shot at ozeki. If that's what he believed then, who would argue with him now, after spurting to a 7-8 record in the last few days