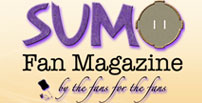 What Will Become of the Dynasty?
Brian Lewin
The Hanada Dynasty – past or present?

Rikishi of Old
Joe Kuroda
A look at a rikishi of yesteryear with Tenryu our man for August.

Heya Peek
John Gunning
John attends a chanko session at Chiganoura Beya.

Photo Bonanza
For a glimpse at some of the sights you won't see on TV.

July Basho Review
Lon Howard & John Gunning
Lon gives us his Nagoya Basho summary and his take on upset of the tournament while John chips in with his 'gem' of the basho.

Lower Division Rikishi
Mikko Mattila takes a break and Eric Blair covers the lower divisions in his own 'unique' way.

Aki Basho Forecast
Pierre Wohlleben & Mark Buckton
Pierre predicts the Aki Basho banzuke while Mark previews the ones to watch next time out.

Sumo 101
Barbara Ann Klein
Gyoji goings on and several things you never knew about the ones officiating.

Kimarite Focus
Mikko Mattila
Mikko walks us through his 2 chosen kimarite.

Minusha
John McTague
John's unique view of news from outside the dohyo.

Boletín de Sumo en Español
Eduardo de Paz Gútiez
An article on sumo's very first fan mag – Boletin de Sumo en Espanol

Online Gaming
Jezz Sterling
Hear from the founder of Bench Sumo of one of sumo's most popular games.

Kokugi Connections
Todd Lambert
Todd's focus on 3 of the most interesting online sumo sites today.

Fan Debate
Henka – good, bad or ugly? See what our debaters think.

Let's Hear From You
What was it that made you a sumo fan – the Petros Zachos story.

Ngozi on the Road
Ngozi T. Robinson
NTR visits an amasumo event in the north-east U.S. and tells us what it was like.

Sumo Quiz
The Quizmaster
Answer the Qs and win yourself next basho's banzuke.

Aki Ones To Watch
by Mark Buckton





by securing just 4 wins to 11 losses, another makekoshi could leave this 34-year-old looking down the barrel of an intai announcement. Sadly, with just one Aki kachi-koshi since 2000, things aren't looking that hot statistically. Far too late to develop any new techniques, and if he is to achieve a respectable record in Tokyo, it will be his experience that carries him through against the new kids on the juryo block. 8-7 – I hope, he hopes, I hope again.
Kyokushuzan
Although 1 of 3 of the original group of Mongolians to arrive in sumo, 'Shuzan is often considered THE daddy of Mongolian participation in sumo. Also THE elevator rikishi of the past decade, his maegashira 1w, 5-10 make-koshi last time out will send him back down to a level at which he feels comfortable enough to eke out another impressive kachi-koshi and get the ball rolling again. Prediction: 9-6 and another ride up the banzuke for the sekitori-cum-businessman that is Kyokushuzan.
Iwakiyama
Fighting out of Sakaigawa Beya in Tokyo's Adachi-ku, Iwakiyama's countless mornings of degeiko at nearby Tamanoi Beya with ozeki Tochiazuma look like they are starting to pay off. Even after taking a midweek break during the Nagoya basho,

Next Home



Having belly flopped onto the tawara with my predictions in the first issue of SFM, let's hope this issue turns up something better in the form of accurate predictions for the boys in the top two divisions. As readers will of course be aware, the huge numbers of sekitori dropping out with injury left the Kyokai scratching around somewhat for match-ups later on in the second week and the only excuse I have is that some of the guys I put down for kachi-koshi ended up (if not out injured) going against those a tad too highly ranked for them had there been a full house. As for Kotooshu though – plain and simple: he did the biz, produced the goods and had a great basho – till his legs gave way on day 15.
However, when all is said and done – it is my job to again highlight the ones I think YOU should keep an eye on in September's Aki Basho for the reasons mentioned below. Here they are:
Hayateumi
Fighting at his lowest rank in years – presuming he will be fighting – Hayateumi should make mincemeat of his upper makushita foes but, in doing so HE will be the one they all want to beat. For this basho at least,





he is the Manchester United, the New York Yankees of sumo. Last appearing at this level in the summer tournament of 1999, Hayateumi performed well enough to reach sekiwake just over 2 years later before bouncing back down as low as juryo 9 on two occasions. Finally settling at lower to mid maegashira, he has what it takes by the bucketload to get back up, so expect some solid mawashi work by the Aomori native and as much upper division sumo as he can muster in just 7 bouts. Prediction – 7-0 and makushita yusho.
Daishodai – again!
By achieving a 6-9, the Oitekaze man fell victim to the Nagoya heat and went the numerical opposite of my 9-6 prediction, leaving perhaps the only positive thing to say about him the fact that he achieved some vital experience in upper juryo. He will be demoted to about mid-way, of course, and when back on home turf (he is a Tokyoite), expect a kachi-koshi approaching double figures next time out. Prediction – 10-5 and a mad dash to makuuchi starting.
Otsukasa – again!
Another repeat 'OTW' man but, having failed miserable in July