SOS - Shinjinrui on Sumo

Chris Gould


Chris sinks his teeth into how sumo can go about pulling in the younger fans - currently so noticeable by their absence. The first of a three-part series.

Sumo World Championships

Mark Buckton


Mark Buckton reports from Sakai near Osaka, site of the latest Sumo World Championships.

Rikishi of Old

Joe Kuroda


Joe Kuroda finishes off his look at former yokozuna Minanogawa.

Sumo 101 / Eric Evaluates

Eric Blair


Eric expains sumo fan terminology - with the inevitable twist - for those just getting into the sport and still subject to the know it alls.

Age stands still for no man

Joe Kuroda


Former ozeki Kiyokuni will retire in November under the compulsory '65 and you are out' rule. JK takes a look at this quiet earth mover.

Feel the Sumo

Eduardo de Paz


Read and feel the renowned Leonishiki's passion for all things sumo at his first live event.

SFM Interview

Mark Buckton


Mark interviews Colin Carroll - again - Irish star of Sakai.

Photo Bonanza
See the Aki Basho bonanza as well as the largest collection of pics you are likely to see on the Sumo World Championships earlier in October.

Aki Basho Summary

Lon Howard


Lon wraps the September Aki Basho and throws in some henka sighting results for good measure.

Lower Division Rikishi

Mikko Mattila


The lower divisions, their members and results get the once over thanks to Mikko's eye of things 'beneath the curtain'.

Kimarite Focus

Mikko Mattila


Mikko's latest clarification of several of the sport's plethora of kimarite.

Amateur Angles

Howard Gilbert


Howard Gilbert - manager of New Zealand's amateur sumo team takes a look at the approaching Russians.

Kokugi Konnections

Todd Lambert


Click on Todd's bimonthly focus on three of the best sumo sites online.

Fan Debate

Facilitator - Lon Howard


Jesse Lake and Rich Pardoe hammer out their differences on a current furor - promotion criteria.

SFM Cartoons

Benny Loh & Stephen Thompson


In this issue's cartoon bonanza, sit back and enjoy Benny Loh's offerings and put a caption to Stephen Thompson's picture to win yourselves a banzuke.

Sumo Odds 'n' Ends
SFM's interactive elements including Henka Sightings, Elevator Rikishi and Eternal Banzuke!

Readers' Letters
See what our readers had to say since we last hit your screens.

Sumo Quiz

The Quizmaster


Answer the Qs and win yourself next basho's banzuke.

Barbara Ann Klein


Our Editor previews some highlights of this Issue for you ...

Read more...

Chris Gould

In the first of a three-part series, Chris Gould examines why so many young Japanese are sumo-averse, and suggests ways in which sumo may overcome the problem.




On 11th September 2003, my outlook on sumo changed profoundly.

...

Mark Buckton

According to Richard Quest, business analyst-cum- opinionated-newscaster on CNN, the definition of a camel is "a horse built by a committee".

Quest is obviously an expert on amateur sumo ... Read more...

Joe Kuroda

Isegahama oyakata(former ozeki Kiyokuni) will be taking mandatory retirement from the Nihon Sumo Association during the Kyushu basho as he reaches his 65th birthday on November 20, 2006.

He was born Tadao Sato in Ogachi-machi ... Read more...

Howard Gilbert

The Russians are coming!

The Russians are coming!

I can safely say the Russians are here! The past two months have been almost a benefit for Russians in the sport of amateur sumo. In this time, they have asserted their dominance in Europe, demonstrated that there is a strong crop of youngsters coming through, and swept most before them at the recent Sumo World Championships.... Read more...




Eduardo de Paz

Thanks to today's modern communications and transportation, Tokyo is no longer so far away. It's not so expensive either, or at least very similar to many of the main European cities. None of the reasons that until now have stopped you from travelling to Japan can be an excuse not to decide to get your plane tickets and run to see a live sumo match. And there is no one better place to do it than Tokyo, the world-wide center of this sport.... Read more...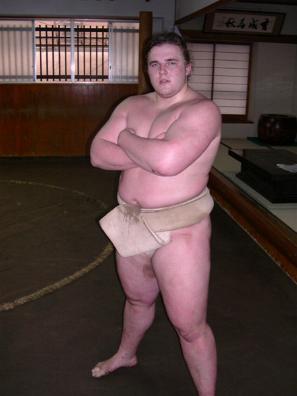 Sumo Fan Magazine, like all magazines, could
not and would not exist without its readers. To
that end, anything you think we should do, you
think we should cease to do or you think we should
never even think about doing, we want to know. Let
us know the aspects of SFM you like - articles, the
like of which, you'd like to read more of and articles
you'd never like to see again. Or, just tell us what
you want to say about sumo - we want to hear your
voice, too. As the logo at the top of our front page
says we are by the fans - FOR the fans - that's you.
We welcome your comments and will be featuring
some letters received in our soon-to-come "Letters"
feature. We may even be offering tokens of our
appreciation - sumo-related, of course, to a "Letter of
the Month". So, if you have something to say please
mail us at fan_liaison_director@sumofanmag.com.
Sumo Fan Magazine (SFM) logo and slogan are © Copyright 2005 by Sumo Fan Magazine. Furthermore, all submissions and other content found on this site are © Copyright 2005 SFM and the writers, photographers and artists who produced them, except where otherwise indicated. No part may be reproduced in any form, without express written permission of SFM.

You Could Be Advertising Here!


Editor-in-Chief and Creative Director – Japan
Mark Buckton
Editor
Barbara Ann Klein
Fan Liaison Director
Lon Howard
Staff Writers
Eric Blair
Howard Gilbert
Joe Kuroda
Todd Lambert
Mikko Mattila
Carolyn Todd



Contributing Writers


Chris Gould


Proofreaders
Katherine Dee
Barbara Patten


Website System Admin & Hosting
Alisdair Davey
Magazine & Website Layout Designer
Olivia Nagioff


Cartoonists
Benny Loh
Stephen Thompson


Staff Translators
Denis Chaton – French
Juan Pablo Vieytes – Spanish
Alexander Hermann – German


\n'); } var L10qstr,L10pc,L10ref,L10a,L10pg; L10pg=document.URL.toString(); L10ref=document.referrer; if(top.document.location==document.referrer || (document.referrer == "" && top.document.location != "")) {L10ref=top.document.referrer;} L10qStr = "pg="+escape(L10pg)+"&ref="+escape(L10ref)+"&os="+escape(navigator.userAgent)+"&nn="+escape(navigator.appName)+"&nv="+escape(navigator.appVersion)+"&nl="+escape(navigator.language)+"&sl="+escape(navigator.systemLanguage)+"&sa="+success+"&cR="+escape(cRef)+"&cRT="+escape(cRefType)+"&cPg="+escape(cPage); if(navigator.appVersion.substring(0,1) > "3") { L10d = new Date(); L10qStr = L10qStr+"&cd="+screen.colorDepth+"&sx="+screen.width+"&sy="+screen.height+"&tz="+L10d.getTimezoneOffset();} if((location.href.substr(0,6)=="https:") || (location.href.substr(0,6)=="HTTPS:")) { L10pc="https"; } else { L10pc="http"; } document.write('
');