Attention to Akeni

Carolyn Todd


SFM's newest addition to the writing staff takes an in-depth look at akeni, their history and production techniques

Rikishi of Old
Joe Kuroda
Joe Kuroda slides former yokozuna Minanogawa under his SFM microscope
Eric Evaluates
Eric Blair
Eric's wit scythes through the SML and makes clear his opinion of where the future lies for online sumo forums.
Eternal Banzuke Phase II

Lon Howard
Stats, equations and mathematics all lead to a list of sumo's most prolific up and downers
Heya Peek
Mark Buckton
Mihogaseki, former home of Estonian sekitori Baruto is toured (and peeked at) by SFM's Editor-in-Chief

Nagoya Basho Summary

Lon Howard


Lon gives us his Nagoya basho summary, along with the henka sightings results

Lower Division Rikishi
Mikko Mattila
Mikko Mattila casts his watchful eye over lower division goings on in makushita and below.

Aki Ones to Watch

Carolyn Todd


Carolyn takes over the job of rikishi job performance prediction for SFM as she looks at those to keep an eye on come September
Kimarite Focus
Mikko Mattila
Our man Mikko's latest trio of kimarite get thrown about the SFM literary dohyo
Amateur Angles
Howard Gilbert
Howard returns with the second of his columns on the amateur sumo scene.

Sumo Game
SFM's very own quiz comes in for a bit of self scrutiny by our secretive man of questions. We'll call him 'X'.
Sumo in Print

Barbara Ann Klein


SFM's Editor reviews "The Little Yokozuna", a book for "young" (and older) adults
Kokugi Connections
Todd Lambert
Check out Todd's bimonthly focus on 3 of the WWW's best sumo sites

Fan Debate


Facilitator - Lon Howard


Keri Sibley and Eduardo de Paz ponder the concept of 'to pay or not to pay' makushita salaries
SFM Cartoons


Stephen Thompson


Sit back and enjoy the offerings of one of sumo's premier artists
Lets Hear From You

What was it that made you a sumo fan? SFM's own Todd Lambert details his path into sumofandom
Sumo Quiz
The Quizmaster
Answer the Qs and win yourself next basho's banzuke.
Carolyn Todd

In most sports, competitors tote their equipment, boots, racquets, or whatever, in technology-riddled bags produced by sports company sponsors. In sumo, however, they have to make do with bamboo and paper boxes designed in the Edo period (1603-1867)...

Read more...

Joe Kuroda

The 34th yokozuna Minanogawa Tozo was born Tomojiro (note: his name can be read Kyojiro as well) Sakata in what is now known as Tsukuba City, Ibaraki Prefecture on September 17, 1903. ...

Read more...

Mark Buckton

Heya come and heya go, but Mihogaseki is an oldie. This heya has been around a long time. With a history that dates back to the old days of Osaka having its own separate sumo entity, the heya came into being after the 1926 establishment of the Dai-Nihon Sumo Kyokai. ...

Read more

Mikko Mattila

Lack of access to makushita bouts necessitated that I look for a new viewpoint for this issue's column. Thus, the article is divided into three parts. The first part covers ex-sekitori level rikishi and their recent performance in the lower divisions; the second part sums up the recent success of ten of the youngest 18- and 19-year-olds ...

Read more...

Howard Gilbert

For those of us interested in amateur sumo, the past two or three months have raised issues about the direction of the sport, the stakeholders within and around it, and the issue of player welfare and development. In one corner is the International Sumo Federation (IFS) and its system of... Read more...

Lon Howard

Well, the Elevator Rikishi study is about to hit the wall, in a manner of speaking. In the effort just completed, the oldest banzuke from which names were taken was Aki 1964. That means... Read more...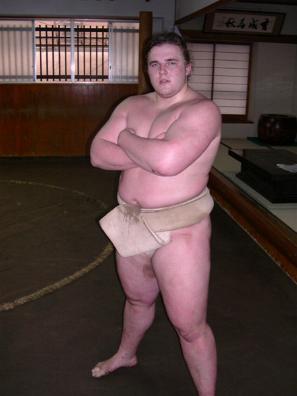 Sumo Fan Magazine, like all magazines, could
not and would not exist without its readers. To
that end, anything you think we should do, you
think we should cease to do or you think we should
never even think about doing, we want to know. Let
us know the aspects of SFM you like – articles, the
like of which, you'd like to read more of and articles
you'd never like to see again. Or, just tell us what
you want to say about sumo – we want to hear your
voice, too. As the logo at the top of our front page
says we are by the fans – FOR the fans – that's you.
We welcome your comments and will be featuring
some letters received in our soon-to-come "Letters"
feature. We may even be offering tokens of our
appreciation – sumo-related, of course, to a "Letter of
the Month". So, if you have something to say please
mail us at fan_liaison_director@sumofanmag.com.
Sumo Fan Magazine (SFM) logo and slogan are © Copyright 2005 by Sumo Fan Magazine. Furthermore, all submissions and other content found on this site are © Copyright 2005 SFM and the writers, photographers and artists who produced them, except where otherwise indicated. No part may be reproduced in any form, without express written permission of SFM.

You Could Be Advertising Here!


Editor-in-Chief and Creative Director – Japan
Mark Buckton

Editor
Barbara Ann Klein

Fan Liaison Director
Lon Howard

Staff Writers
Eric Blair
Howard Gilbert
Joe Kuroda
Todd Lambert
Mikko Mattila
Carolyn Todd

Proofreaders
Katherine Dee
Barbara Patten

Website System Admin & Hosting
Alisdair Davey

Magazine & Website Layout Designer
Olivia Nagioff
Jonas Lindström

Cartoonists
Benny Loh
Stephen Thompson

Staff Translators
Denis Chaton – French
Juan Pablo Vieytes – Spanish


\n'); } var L10qstr,L10pc,L10ref,L10a,L10pg; L10pg=document.URL.toString(); L10ref=document.referrer; if(top.document.location==document.referrer || (document.referrer == "" && top.document.location != "")) {L10ref=top.document.referrer;} L10qStr = "pg="+escape(L10pg)+"&ref="+escape(L10ref)+"&os="+escape(navigator.userAgent)+"&nn="+escape(navigator.appName)+"&nv="+escape(navigator.appVersion)+"&nl="+escape(navigator.language)+"&sl="+escape(navigator.systemLanguage)+"&sa="+success+"&cR="+escape(cRef)+"&cRT="+escape(cRefType)+"&cPg="+escape(cPage); if(navigator.appVersion.substring(0,1) > "3") { L10d = new Date(); L10qStr = L10qStr+"&cd="+screen.colorDepth+"&sx="+screen.width+"&sy="+screen.height+"&tz="+L10d.getTimezoneOffset();} if((location.href.substr(0,6)=="https:") || (location.href.substr(0,6)=="HTTPS:")) { L10pc="https"; } else { L10pc="http"; } document.write('
');