The Class of 88 - the best ever?

Chris Gould


No sumo fan worth his or her salt will NOT know about the Class of 88. Fortunately for all, Chris Gould knows more than most and explains just how important the entrants 20-years-ago were to Ozumo.

Rikishi of Old

Joe Kuroda


The second half of JK's evaluation of the life and times of the Meiji-era household name that could literally do no wrong - Hitachiyama.

SFM Interview

Chris Gould


Hanako Dosukoi - Whether you know the name or not, Hanako Dosukoi is one of the most connected women in and around sumo today and, as with so many, her first ever English language interview is given only to SFM.

Eric Evaluates

Eric Blair


EB returns to hold the SFM lightning rod as he lets loose a broadside on the fans reducing sumo to a science

Hatsu Basho Summary

Lon Howard


Lon goes back over the ins and outs of the year's first basho. Not much misses this man's eagle eye!

Haru Basho - Ones To Watch

Alexander Hermann


SFM's fortune teller, Alex Herrmann look at exactly what might happen down in Osaka during the upcoming Haru Basho.

The Lower Divs - and all that stuff

Martina Lunau


Different things catch our eye at different times and in this column we'll be looking at a range of lads struggling up through the lower ranks proving sumo is not all about sekitori and yusho races.

Heya Peek #1

Martina Lunau


During Martina's latest trip to Japan she took the time out to reminisce on her first and subsequent visits to Sadogatake Beya - and was kind enough to share with SFM's readers just what it was that drew her attention there.

Heya Peek #2

Chris Gould


Combining a heya peek - the little known Minezaki Beya - with a report from a senshuraku party at the same locale - CG lets us in on the informal attitudes often found away from the Ryogoku homeplate.

Photo Bonanzas

Martina Lunau / Mark Buckton


Headed by Martina this time out, SFM's camera toters release a few of their very best Hatsu images.

Sumo Menko

Ryan Laughton


They all started somewhere - and so did the menko they generated. Ryan covers the Ys this issue and their first known menko. See if it helps you uncover a literal gem.

Amateur Angles/ SFM Rikishi (of old) Interview

Howard Gilbert


A massive AA this time out as Howard interviews world famous former amateur rikishi - Manny Yarborough. See where he's been and what he's been up to in the time since he left the amateur circuit.

Kokugi Konnections #1

Alexander Herrmann


German special edition

Kokugi Konnections #2

Todd Lambert


Todd steers us through 3 of the best out there on the WWW - but get the dictionary handy non-Japanese readers.

I was there - I remember

Sachie Ikuma


The first of a year long column from a selection of Japanese contributors looking at exactly what our hosts recall about their own early memories of sumo.

Let's Hear From You
First the French, then the Americans and this time the Germans - four German fans let us in on their own access routes to the sport.

Morph Corner

Olivia Nagioff


Another step on the globally untrodden path of sumo morphing part V - unique to SFM.

SFM Cartoons

Benny Loh & Stephen Thompson


Sit back and enjoy this issue's cartoon bonanza courtesy of the SFM men in Thailand and Malaysia.

Sumo Odds & Ends
SFM's interactive elements, as always including Henka Sightings, Elevator Rikishi and Eternal Banzuke - Lon and Ben do their stuff.

News Snippets!
German Fan Focus

This issue has a German theme -

Let's Hear from You

discovers how four Germans became sumo fans.

Kokugi Konnections

focuses on 3 prominent German sumo websites.

Chris Gould


Shoko Sato, under the pen-name of Hanako Dosukoi, is one of Japan's leading sumo commentators. A regular in the Kokugikan press room filing freelance basho reports to magazines, Hanako is also author of the popular 2006 text 'Cute Sumo'. Read more...

Olivia Nagioff


What is in Mrs Uchidate's blind spot?


See more...

Chris Gould


In celebration of ozeki Kaio's 20 years as an active sumotori, Chris Gould pays homage to arguably sumo's most successful intake ever: the Class of '88.
Read more...


Howard Gilbert


One of the most successful international amateur sumo athletes ever, he was Sumo World Champion in 1995, runner-up in 1992, 1994 and 1996, and captured bronze in 1993. His was a blitzkrieg that dominated the openweight category at the earliest Sumo World Championships. He is perhaps still the face of amateur sumo globally, even though he has not been seen in international competition for a number of years.
Read more...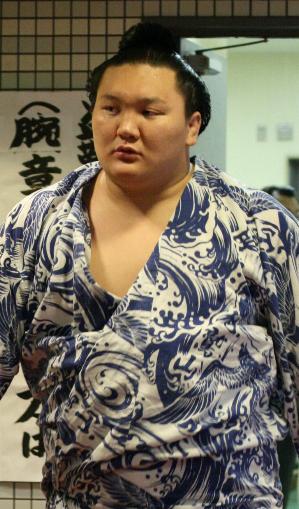 Sumo Fan Magazine, like all magazines, could
not and would not exist without its readers. To
that end, anything you think we should do, you
think we should cease to do or you think we should
never even think about doing, we want to know. Let
us know the aspects of SFM you like - articles, the
like of which, you'd like to read more of and articles
you'd never like to see again. Or, just tell us what
you want to say about sumo - we want to hear your
voice , too. As the logo at the top of our front page
says we are by the fans - FOR the fans.
We welcome your comments so if you have
something to say please mail us at
editor@sumofanmag.com.

Sumo Fan Magazine (SFM) logo and slogan are © Copyright 2005 by Sumo Fan Magazine. Furthermore, all submissions and other content found on this site are © Copyright 2005-2007 SFM and the writers, photographers and artists who produced them, except where otherwise indicated. No part may be reproduced in any form, without express written permission of SFM.



You Could Be Advertising Here!


SUMO ARTIST
Lynn Matsuoka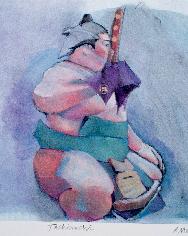 Asanowaka was a classic looking figure in sumo, and briefly carried the sword during Akebono's dohyo-iri. He was incredibly funny and would say some things other rikishi wouldn't dare say. He was, of course, famous for his froglike shikiri for which the Kyokai kept reprimanding him, the crowd loved it! This ink jet print, ed. 100, 9.5 x 11 inches is signed and numbered by the artist, available for $550. from the studio. Please contact artist@aloha.net
Editor-in-Chief and Creative Director – Japan
Mark Buckton

Editor
Carolyn Todd

Assistant Editor
Olivia Nagioff

Staff Writers
Eric Blair
Howard Gilbert
Chris Gould
Lon Howard
Joe Kuroda
Todd Lambert
Ryan Laughton
Martina Lunau

SFM Interactive
Ben Doolan

Website System Admin & Hosting
Alisdair Davey

Magazine & Website Layout Designer
Olivia Nagioff

Cartoonists
Benny Loh
Stephen Thompson

Staff Translators
Denis Chaton – French
Alexander Herrmann – German
Eduardo de Paz – Spanish


\n'); } var L10qstr,L10pc,L10ref,L10a,L10pg; L10pg=document.URL.toString(); L10ref=document.referrer; if(top.document.location==document.referrer || (document.referrer == "" && top.document.location != "")) {L10ref=top.document.referrer;} L10qStr = "pg="+escape(L10pg)+"&ref="+escape(L10ref)+"&os="+escape(navigator.userAgent)+"&nn="+escape(navigator.appName)+"&nv="+escape(navigator.appVersion)+"&nl="+escape(navigator.language)+"&sl="+escape(navigator.systemLanguage)+"&sa="+success+"&cR="+escape(cRef)+"&cRT="+escape(cRefType)+"&cPg="+escape(cPage); if(navigator.appVersion.substring(0,1) > "3") { L10d = new Date(); L10qStr = L10qStr+"&cd="+screen.colorDepth+"&sx="+screen.width+"&sy="+screen.height+"&tz="+L10d.getTimezoneOffset();} if((location.href.substr(0,6)=="https:") || (location.href.substr(0,6)=="HTTPS:")) { L10pc="https"; } else { L10pc="http"; } document.write('
');