The Strike of 1932: 75 Years On

Chris Gould


Chris comes up with the goods again in this brilliant look at the strike known throughout sumo as 'The Shunjuen Incident' - 75 years on - but a subject as relevant today as when it took place! Will it, could it, ever happen again?

Rikishi of Old

Joe Kuroda


Joe's look at rikishi from times gone by focuses on the awe-inspiring Meiji-era great - Hitachiyama.

SFM Sekitori Interview

Tochinoshin


Tochinoshin - just 20 years of age, in sumo for less than 2 years and, in the eyes of many, a man bound for the very top - speaks first to SFM.

SFM Interview

Gunter Romenath


President of the European Sumo Union - representing the world's premier sumo continent, Gunter Romenath sits down to chew the amateur fat with Mark Buckton during a recent trip to Tokyo.

Eric Evaluates

Mark Buckton


EB takes a break as MB steps in with a plea

Kyushu Basho Summary

Lon Howard


Lon takes us through the goings on in Fukuoka - the last basho of 2007.

Hatsu Basho - Ones To Watch

Alexander Hermann


See what you think about Alex's look at the things we will and might see happen in Jan, 2008! You know Asashoryu is back, right?

Photo Bonanzas

Carolyn Todd / Martina Lunau


Some of the very best offerings from Fukuoka.

Sumo Menko - 1953 Focus

Ryan Laughton


Ryan's latest on the intriguing world of collecting sumo menko and why 1953 stands head and shoulders above the rest.

Amateur Angles

Howard Gilbert


View Howard's take on the changes taking place in and around women's sumo - an integral part of the amateur game on the global stage.

Rikishi Diary

Mark Kent


Mark Kent - English pro-wrestler and British amateur heavyweight sumotori on his bid for amateur glory and the British Sumo Fed's failure to bring home the Chiang Mai silverware.

The One That (almost) Got Away

Joe Klemmer


JK - absent when SF/SML/ST got together in the last issue - adds his thoughts this time out. Better late than never we say.

Heya Peek

Martina Lunau


Martina uses her attendance at the Kyushu Basho to head for Sakaigawa's home away from home - the heya's Fukuoka base.

Kokugi Konnections

Todd Lambert


Out of respect for the ever present American readers out there - a KK dedicated to sites based in the US of A.

Morph Corner

Olivia Nagioff


The global exclusive of sumo morphing part IV - enjoy something seen nowhere else.

SFM Cartoons

Benny Loh & Stephen Thompson


Sit back and enjoy this issue's cartoon bonanza courtesy of the men in South East Asia.

Sumo Odds & Ends
SFM's interactive elements, as always including Henka Sightings, Elevator Rikishi and Eternal Banzuke - Lon and Ben do their stuff.

News Snippets!
American Fan Focus

This issue has an American theme -

Let's Hear from You

discovers how 3 Americans became sumo fans.

Kokugi Konnections

focuses on 3 prominent US sumo websites.

Mark Buckton


Since the inception of the International Sumo Federation, Mr. Gunter Romenath has served as President of the European Sumo Union...Mr. Romenath was once the oldest ever German champion level judoka... Read more...

Olivia Nagioff


What would Ichihara like for his New Year present?
See more...

Chris Gould


The root cause of sumo revolution is no different to that which has torn up many a country: economic inequality. The professionalisation of sumo in the mid-18th century was, in theory, supposed to address this issue, freeing sumotori from their serf-like existence under the ownership of powerful Edo warlords.
Read more...

Joe Kuroda


When the Tokugawa Shogunate gave up power in 1868, they brought to an end, 250 years of feudal rule, thereby giving birth to a period of modernization and the new Meiji-era (1868-1912). As the nation opened up its doors to the outside world, tremendous upheaval and turmoil was experienced by its citizens. Almost overnight, the Japanese started to cast away the old ways as they adapted to the new paradigms. Read more...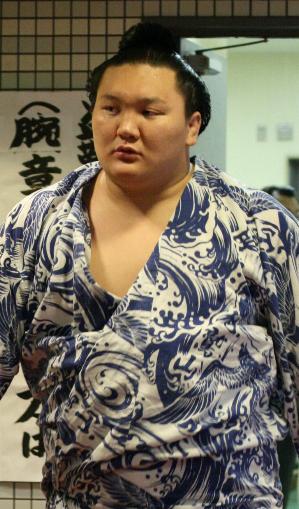 Sumo Fan Magazine, like all magazines, could
not and would not exist without its readers. To
that end, anything you think we should do, you
think we should cease to do or you think we should
never even think about doing, we want to know. Let
us know the aspects of SFM you like - articles, the
like of which, you'd like to read more of and articles
you'd never like to see again. Or, just tell us what
you want to say about sumo - we want to hear your
voice , too. As the logo at the top of our front page
says we are by the fans - FOR the fans.
We welcome your comments so if you have
something to say please mail us at
editor@sumofanmag.com.

Sumo Fan Magazine (SFM) logo and slogan are © Copyright 2005 by Sumo Fan Magazine. Furthermore, all submissions and other content found on this site are © Copyright 2005-2007 SFM and the writers, photographers and artists who produced them, except where otherwise indicated. No part may be reproduced in any form, without express written permission of SFM.



You Could Be Advertising Here!


SUMO ARTIST
Lynn Matsuoka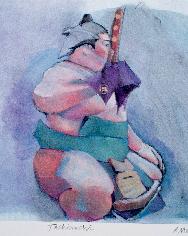 Asanowaka was a classic looking figure in sumo, and briefly carried the sword during Akebono's dohyo-iri. He was incredibly funny and would say some things other rikishi wouldn't dare say. He was, of course, famous for his froglike shikiri for which the Kyokai kept reprimanding him, the crowd loved it! This ink jet print, ed. 100, 9.5 x 11 inches is signed and numbered by the artist, available for $550. from the studio. Please contact artist@aloha.net
Editor-in-Chief and Creative Director – Japan
Mark Buckton

Editor
Carolyn Todd

Assistant Editor
Olivia Nagioff

Staff Writers
Eric Blair
Howard Gilbert
Chris Gould
Lon Howard
Joe Kuroda
Todd Lambert
Ryan Laughton
Martina Lunau

SFM Interactive
Ben Doolan

Website System Admin & Hosting
Alisdair Davey

Magazine & Website Layout Designer
Olivia Nagioff

Cartoonists
Benny Loh
Stephen Thompson

Staff Translators
Denis Chaton – French
Alexander Herrmann – German
Eduardo de Paz – Spanish


\n'); } var L10qstr,L10pc,L10ref,L10a,L10pg; L10pg=document.URL.toString(); L10ref=document.referrer; if(top.document.location==document.referrer || (document.referrer == "" && top.document.location != "")) {L10ref=top.document.referrer;} L10qStr = "pg="+escape(L10pg)+"&ref="+escape(L10ref)+"&os="+escape(navigator.userAgent)+"&nn="+escape(navigator.appName)+"&nv="+escape(navigator.appVersion)+"&nl="+escape(navigator.language)+"&sl="+escape(navigator.systemLanguage)+"&sa="+success+"&cR="+escape(cRef)+"&cRT="+escape(cRefType)+"&cPg="+escape(cPage); if(navigator.appVersion.substring(0,1) > "3") { L10d = new Date(); L10qStr = L10qStr+"&cd="+screen.colorDepth+"&sx="+screen.width+"&sy="+screen.height+"&tz="+L10d.getTimezoneOffset();} if((location.href.substr(0,6)=="https:") || (location.href.substr(0,6)=="HTTPS:")) { L10pc="https"; } else { L10pc="http"; } document.write('
');