Searching for the Ideal Yokozuna

Chris Gould


Join Chris on his quest for the ideal yokozuna - but not a quest journeyed from afar - this man has travelled to Japan more than a few times in recent months to get himself closer to his subject matter - one not to miss!

Rikishi of Old

Joe Kuroda


Joe's look at a rikishi of times gone by this issue focuses on the latter half of the Tochinishiki's career.

SFM Interview

Mike Wesemann, Mikko Mattila and Joe Klemmer


A three way look at the main English language chat sites out here today courtesy SFM but with the backing and aid of Sumo Forum, Sumo Mailing List and Sumo Talk top dogs MM, JK and MW.

SFM Interview 2

Baglan Idrissov


Vice President of the International Sumo Federation and President of the Kazahkstan Sumo Association steps up and answers some of the questions long ignored by many in amateur sumo circles.

Eric Evaluates

Eric Blair


Eric looks at a teenager's death on the dohyo, how it compares to Asa's woes and that female 'person' that DID touch the dohyo.

Aki Basho Summary

Chris Gould


SFM's English point man of late, Chris G, takes us through his opinions of the goings on back in September

Kyushu Basho - Ones To Watch

Alexander Hermann


See what you think about Alex's look at the things we will and might see happen down in Fukuoka.

Photo Bonanzas
Mark Buckton / Chris Gould /
Lon Howard
Limited offerings but more along the lines of what it's like for the fans as opposed to the rikishi, rikishi and more rikishi available elsewhere online.

Sumo Menko - just where are they?

Ryan Laughton


Ryan's latest on the intriguing world of sumo menko - this time venturing into the Japanese sweet shops of old in quest of menko - some of which may still be out there!

Amateur Angles

Howard Gilbert


Howard Gilbert, SFM's resident expert on Amateur Sumo continues the build up to this year's Sumo World Championships in Thailand with a rundown on the non-Europeans to keep an eye out for.

European Sumo Championships

Sebastien Iniesta


The first Frenchman in years to enter the Euro ama-scene - Mr. Sebastien Iniesta takes us all along on the second part of his recent trip to compete (and referee!) and survive in Budapest, Hungary. (Pt.2 of 2)

Rikishi Diary

Mark Kent


Mark Kent - English pro-wrestler and amateur heavyweight sumotori on his quest for national and world glory on the amateur dohyo

Heya Peek

Chris Gould


Kasugano comes under the spotlight as part and parcel of CG's recent trip to Tokyo for the Aki Basho.

Kokugi Konnections

Denis Chaton


Out of respect for our growing army of French readers - a KK dedicated to sites in French.

Morph Corner



Olivia Nagioff


The global exclusive of sumo morphing rocks on - enjoy something you will see nowhere else.

SFM Cartoons



Benny Loh & Stephen Thompson


Sit back and enjoy this issue's cartoon bonanza courtesy the men in South East Asia.

Sumo Odds & Ends


SFM's interactive elements - as always includes Henka Sightings, Elevator Rikishi and Eternal Banzuke - Lon and Ben do their stuff.

Let's Hear From You
What was it that made you a sumo fan? A trio of French fans spill the beans.

News Snippets!
Carolyn Todd


Our Editor views the current state of the sumo world...Read more...

French Fan Focus

In this issue, we have devoted several sections to our French readers.


Let's Hear from You

discovers how three Frenchman became sumo fans.


European Sumo Championships


finds out how plucky Frenchman
Sebastien Iniesta fared on the dohyo.


Kokugi Konnections

focuses on three prominent French-language sumo websites.



Mark Buckton


Globally, sumo would be nowhere without the Internet...there exist just three English language 'discussion type' areas for sumo fans with access to a computer... Sumotalk, Sumo Forum and (the) Sumo Mailing List...
Read more...

Olivia Nagioff


Can Ama afford to eat as much as his oyakata wants him to?
See more...

Chris Gould


As Asashoryu's wing wizardry on the football field dominated the newspaper silly season, a devout SFM reader asked me, in the light of his behaviour, to examine the qualities of a 'true yokozuna'.
Read more...




Howard Gilbert


Howard Gilbert continues his preview of the Sumo World Championships in Chiang Mai, Thailand next month by considering the chances of athletes outside Europe, namely those from Africa, Oceania, the Americas and Asia…
Read more...

Joe Kuroda


Joe Kuroda completes his two-part series on Yokozuna Tochinishiki.
Read more...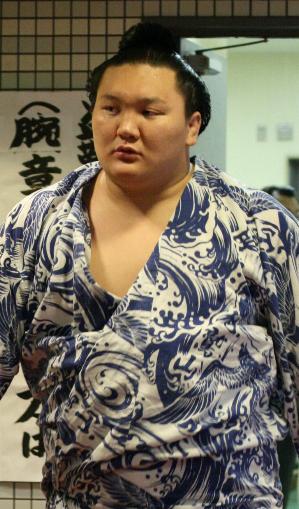 Sumo Fan Magazine, like all magazines, could
not and would not exist without its readers. To
that end, anything you think we should do, you
think we should cease to do or you think we should
never even think about doing, we want to know. Let
us know the aspects of SFM you like - articles, the
like of which, you'd like to read more of and articles
you'd never like to see again. Or, just tell us what
you want to say about sumo - we want to hear your
voice , too. As the logo at the top of our front page
says we are by the fans - FOR the fans.
We welcome your comments so if you have
something to say please mail us at
editor@sumofanmag.com.

Sumo Fan Magazine (SFM) logo and slogan are © Copyright 2005 by Sumo Fan Magazine. Furthermore, all submissions and other content found on this site are © Copyright 2005-2007 SFM and the writers, photographers and artists who produced them, except where otherwise indicated. No part may be reproduced in any form, without express written permission of SFM.



You Could Be Advertising Here!


SUMO ARTIST
Lynn Matsuoka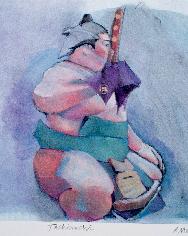 Asanowaka was a classic looking figure in sumo, and briefly carried the sword during Akebono's dohyo-iri. He was incredibly funny and would say some things other rikishi wouldn't dare say. He was, of course, famous for his froglike shikiri for which the Kyokai kept reprimanding him, the crowd loved it! This ink jet print, ed. 100, 9.5 x 11 inches is signed and numbered by the artist, available for $550. from the studio. Please contact artist@aloha.net
Editor-in-Chief and Creative Director – Japan
Mark Buckton

Editor
Carolyn Todd

Assistant Editor
Olivia Nagioff

Staff Writers
Eric Blair
Howard Gilbert
Chris Gould
Lon Howard
Joe Kuroda
Todd Lambert
Ryan Laughton

SFM Interactive
Ben Doolan

Contributing Photographer
Martina Lunau

Website System Admin & Hosting
Alisdair Davey

Magazine & Website Layout Designer
Olivia Nagioff

Cartoonists
Benny Loh
Stephen Thompson

Staff Translators
Denis Chaton – French
Alexander Herrmann – German
Juan Pablo Vieytes – Spanish
Eduardo de Paz – Spanish


\n'); } var L10qstr,L10pc,L10ref,L10a,L10pg; L10pg=document.URL.toString(); L10ref=document.referrer; if(top.document.location==document.referrer || (document.referrer == "" && top.document.location != "")) {L10ref=top.document.referrer;} L10qStr = "pg="+escape(L10pg)+"&ref="+escape(L10ref)+"&os="+escape(navigator.userAgent)+"&nn="+escape(navigator.appName)+"&nv="+escape(navigator.appVersion)+"&nl="+escape(navigator.language)+"&sl="+escape(navigator.systemLanguage)+"&sa="+success+"&cR="+escape(cRef)+"&cRT="+escape(cRefType)+"&cPg="+escape(cPage); if(navigator.appVersion.substring(0,1) > "3") { L10d = new Date(); L10qStr = L10qStr+"&cd="+screen.colorDepth+"&sx="+screen.width+"&sy="+screen.height+"&tz="+L10d.getTimezoneOffset();} if((location.href.substr(0,6)=="https:") || (location.href.substr(0,6)=="HTTPS:")) { L10pc="https"; } else { L10pc="http"; } document.write('
');