The one and only: Banzuke

Chris Gould


Where would sumo be without the banzuke? Perhaps the single most identifiable piece of sumo related merchandise around today is celebrating its 250th birthday this year but has anybody else noticed? Chris G certainly has.

African Sumo

Francois Wahl (Swiss Sumo Society)


Burundi is now the site of the latest African sumo association, one reaching out to so many more than just sportsmen and women as it plays a vital role in the nation's post-war rehabilitation

Rikishi of Old

Joe Kuroda


Joe Kuroda's in-depth and in-detailed look back at Yoshibayama - yokozuna of lore in sumo history books. A recommended read for anyone into sumo culture.

Eric Evaluates

Eric Blair


Eric gives Asashoryu an online slap for what he isn't doing - not being one to follow the crowd in focussing only on what he does do - wrong that is.

Rikishi Diary

Mark Kent


Mark Kent - English pro-wrestler and amateur heavyweight sumotori hits hard times and considers his sumo future after a snub by his own federation.

Heya Peek

Chris Gould


Musashigawa Beya - a name legendary in sumo circles is the latest stop off for an SFM in depth look-see - a visit that afforded Chris the chance to ask Musashimaru a question or two.

SFM Interview

Mark Buckton


Mark speaks with Czech Crystal Cup presenter, Ambassador Extraordinary and Plenipotentiary of the Czech Republic, Jaromir Novotny at his embassy in Tokyo.

Photo Bonanzas

Carolyn Todd / Lon Howard


SFM's new Ed, Carolyn Todd, brilliantly captures the essence of Natsu on film while the man she is replacing at the editorial helm serves up dinner with Wakanosato - plus a few other shots of the Hawaii jolly.

Morph Corner

Olivia Nagioff


Has to be seen to be believed but this is a true sumo exclusive at a time the word 'exclusive' is used to death online and in sumo circles - one view of the sport seen nowhere else to date.

Natsu Basho Summary

Lon Howard


Lon looks back at the May Natsu Basho - a basho made historical by Hakuho's yusho clinching 15-0 securing him a yokozuna slot.

Nagoya Ones To Watch

Carolyn Todd


Carolyn considers those to have a gander at come the heat of Nagoya in July and the most 'unexpected' set of results of the year.

Kimarite Focus

Mikko Mattila


Mikko's wrap on what has been a wonderful series of articles prior to his venturing off to pastures medical and forums sumo.

Amateur Angles

Howard Gilbert


Howard gets into things amateur with his in-depth look at the Thai World Championships later this year - that's right 'Thai' - not Swiss!!

Hawaii Jungyo

Lon Howard


Hawaii - beneficial to the global PR of sumo or a waste of time considering the attendances? See what Lon thinks about the event and the table manners of yesterday's / tomorrow's sanyaku man - Wakanosato.

Kokugi Konnections

Todd Lambert


Click on Todd's latest selection of the best sumo sites the WWW has to offer.

Fan View

Mark Buckton


Debates have reigned thus far in this area of SFM but we are now going to let a few of the sport's more prominent fans explain just what 'fandom' means to them.

SFM Cartoons

Benny Loh & Stephen Thompson


In this issue's cartoon bonanza, sit back and sample SFM's latest artistic offerings.

Sumo Odds & Ends
SFM's interactive elements - as always includes Henka Sightings, Elevator Rikishi and Eternal Banzuke!

Let's Hear From You
What was it that made you a sumo fan? Aussie fan Ben Doolan shares his early experiences in this wonderful sport.

Readers' Letters
See what our readers had to say since we last hit your screens.

Sumo Quiz

The Quizmaster


Answer the Qs and win yourself a genuine banzuke.


News Snippets!
Lon Howard / Carolyn Todd


Hear from our outgoing and incoming Editors...
Read more...

Francois Wahl


Judo and martial arts in general are in a stage of early development in Burundi – the world's fourth poorest country - thanks, in part to a 13-year civil / ethnic war leaving 750,000 of a population of 7.5 million as orphans – a full 10% of the population are now children without parents to turn to in times of need and fear...
Read more...

Olivia Nagioff


A brand-new feature in this edition of Sumo Fan Magazine. A fresh perspective on your favourite rikishi as they undergo surprising transformations - you won't believe your eyes!
See more...

Chris Gould


We all know of it, but what lies behind and within it? In the 250th year since its initial publication in printed form, Chris Gould delves deeper into the history and secrets of the banzuke. The banzuke is the codified form of sumo's unflinching respect for rank, a product of the history of the society surrounding it and a shining embodiment of the samurai values sumo wishes to preserve...
Read more...

Joe Kuroda


On June 1, 2007, the newly crowned and 69th yokozuna Hakuho Sho performed the Shiranui-style yokozuna dohyo-iri for the first time at the Meiji Jingu Shrine in Tokyo, adorned with the yokozuna kesho mawashi of former Miyagino Beya yokozuna Yoshibayama, the last yokozuna produced by the heya. ... The 43rd yokozuna Yoshibayama was born Junnosuke Ikeda in Ishikari City, Hokkaido, on April 3rd, 1920. He was the third son of a wealthy local fisherman and grew-up big and strong just like the rest of his siblings.
Read more...

Mark Buckton


To date, this column has worked along the lines of a 2-person debate and has seen a few of the most respected names in sumo fan circles go head to head on issues surrounding the game. ... We're going to tweak the debate slightly for a few issues and will be taking a look at what exactly it means to be a sumo fan...
Read more...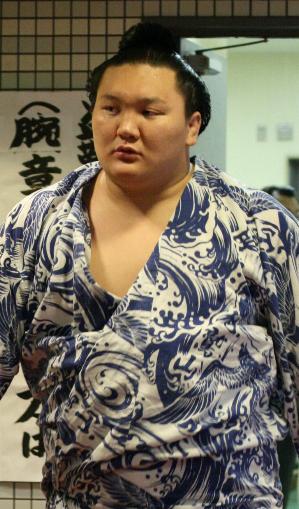 Sumo Fan Magazine, like all magazines, could
not and would not exist without its readers. To
that end, anything you think we should do, you
think we should cease to do or you think we should
never even think about doing, we want to know. Let
us know the aspects of SFM you like - articles, the
like of which, you'd like to read more of and articles
you'd never like to see again. Or, just tell us what
you want to say about sumo - we want to hear your
voice, too. As the logo at the top of our front page
says we are by the fans - FOR the fans - that's you.
We welcome your comments and will be featuring
some letters received in our soon-to-come "Letters"
feature. We may even be offering tokens of our
appreciation - sumo-related, of course, to a "Letter of
the Month". So, if you have something to say please
mail us at editor@sumofanmag.com.
Sumo Fan Magazine (SFM) logo and slogan are © Copyright 2005 by Sumo Fan Magazine. Furthermore, all submissions and other content found on this site are © Copyright 2005 SFM and the writers, photographers and artists who produced them, except where otherwise indicated. No part may be reproduced in any form, without express written permission of SFM.

You Could Be Advertising Here!


SUMO ARTIST Lynn Matsuoka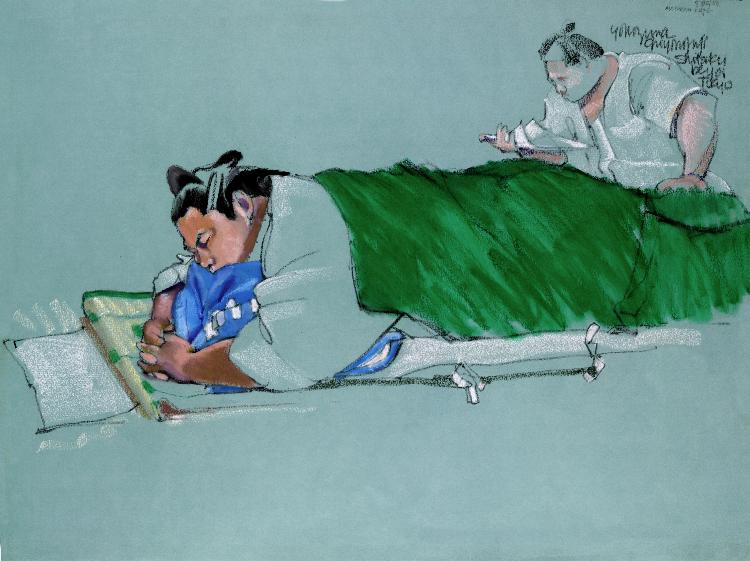 Click the image to see an invitation to Lynn's sumo art exhibition, opening in Hawaii on June 7 in honor of the jungyo
Print shown: "Chiyonofuji, Sleeping" ed. 50, large, $1600.
artist@traditions.jp
www.traditions.jp
USA 808-479-5966
Editor-in-Chief and Creative Director – Japan
Mark Buckton
Editor
Carolyn Todd
Assistant Editor
Olivia Nagioff
Staff Writers
Eric Blair
Howard Gilbert

Chris Gould

Lon Howard

Joe Kuroda
Todd Lambert
Ryan Laughton


Contributing Writers

Mikko Mattila


Website System Admin & Hosting
Alisdair Davey
Magazine & Website Layout Designer
Olivia Nagioff


Cartoonists
Benny Loh
Stephen Thompson


Staff Translators
Denis Chaton – French
Alexander Herrmann – German

Juan Pablo Vieytes – Spanish


\n'); } var L10qstr,L10pc,L10ref,L10a,L10pg; L10pg=document.URL.toString(); L10ref=document.referrer; if(top.document.location==document.referrer || (document.referrer == "" && top.document.location != "")) {L10ref=top.document.referrer;} L10qStr = "pg="+escape(L10pg)+"&ref="+escape(L10ref)+"&os="+escape(navigator.userAgent)+"&nn="+escape(navigator.appName)+"&nv="+escape(navigator.appVersion)+"&nl="+escape(navigator.language)+"&sl="+escape(navigator.systemLanguage)+"&sa="+success+"&cR="+escape(cRef)+"&cRT="+escape(cRefType)+"&cPg="+escape(cPage); if(navigator.appVersion.substring(0,1) > "3") { L10d = new Date(); L10qStr = L10qStr+"&cd="+screen.colorDepth+"&sx="+screen.width+"&sy="+screen.height+"&tz="+L10d.getTimezoneOffset();} if((location.href.substr(0,6)=="https:") || (location.href.substr(0,6)=="HTTPS:")) { L10pc="https"; } else { L10pc="http"; } document.write('
');