Sumo Souvenirs

Mark Buckton


Second of a two parter on sumo souvenirs - some hints on avoiding the fluff.

Konishiki

Chris Gould


Takamiyama's 60s / 70s successes notwithstanding Konishiki was sumo's first full-on mover and shaker from lands afar leaving Chris G to take an in-depth look at the ripples the big guy left behind when exiting the sumo pool.

Rikishi of Old

Joe Kuroda


Joe Kuroda's looks back at the life and times of former yokozuna Shiranui.

Eric Evaluates

Eric Blair


Eric IDs the true winners of the henkafest that was the Haru Basho senshuraku.

Rikishi Diary

Mark Kent


Mark Kent - English pro-wrestler and amateur heavyweight sumotori - takes his training a step further on his road to European and World sumo glory.

Heya Peek

Mark Buckton


Oitekaze Beya just to the north of Tokyo and not far from the abode of SFM's Ed-i-C falls under the microscope.

SFM Interview

Carolyn Todd


Carolyn interviews Riho Rannikmaa during his recent trip to Osaka - head of all things sumo in Estonia, friend and mentor of Baruto, this is a man with something to announce.

Sumo à la LA

Alisdair Davey


SFM's man in the shadows reports on his recent jaunt in LA, as guest of the Californian Sumo Association and SFM reporter at large.

Photo Bonanzas
Hot on the heels of the recent Ise bonanza - Haru up close and very very personal - some of our best pics to date.

Haru Basho Summary

Lon Howard


Lon wraps the Haru Basho and chucks in a few bits on the henka issues the top dogs are suffering from at present.

Sumo Menko

Ryan Laughton


Sumo cards of old brought to life once again by expert collector Ryan Laughton. None of your BBM offerings here - Pt II of III.

Natsu Ones To Watch

Carolyn Todd


Carolyn ponders the ones to watch come May and Natsu when sumo comes home to Tokyo.

Kimarite Focus



Mikko Mattila


Mikko's latest look at sumo's kimarite offers unequalled analysis and in depth explanations.

Amateur Angles

Howard Gilbert


On your marks, get set, go - Howard Gilbert walks us through the months ahead on the amateur calendar.

Kokugi Konnections

Todd Lambert


Click on Todd's latest selection of the best sumo sites the WWW has to offer.

Fan Debate



Facilitator - Carolyn Todd


Should it or shouldn't it? Honbasho go on the overseas road that is. See what SFM's Chris Gould and James Hawkins have to say.

SFM Cartoons

Benny Loh & Stephen Thompson


In this issue's cartoon bonanza, sit back and sample ST's latest artistic offerings.

Sumo Odds & Ends


SFM's interactive elements - as always includes Henka Sightings, Elevator Rikishi and Eternal Banzuke!

Let's Hear From You
What was it that made you a sumo fan - A. S. - the face in the crowd reveals almost all - to see everything you'll have to close your eyes.

Readers' Letters
See what our readers had to say since we last hit your screens.

Sumo Quiz



The Quizmaster


Answer the Qs and win yourself a genuine banzuke.


Chris Gould


Chris Gould marks the 15th anniversary of Konishiki's final yusho triumph with a review of the debate which shaped – and arguably defined – contemporary sumo. On March 22nd 1992, Konishiki Yasokichi and Kirishima Kazuhiro squared off for the makunouchi division championship...
Read more...

Alisdair Davey


In both professional and amateur sumo, Mongolians currently rule the roost. In Japan it is yokozuna Asashoryu and in amateur sumo, it is the current world champion, Byambajav Ulambayar (formerly Daishochi)...
Read more...

Ryan Laughton


All sumo menko were printed on some sort of paper or cardboard stock. From the 1930s to about 1956 the standard was to use the thicker paper stocks, as they provided the right amount of weight for game play. Some kids would even glue menko together to get their slammers even heavier. Check out the 1955 "Renga" series of menko that is printed on 1/8" paper stock!...
Read more...

Joe Kuroda


The 11th yokozuna Shiranui Koemon (may also be known as Mitsuemon) was born in 1825 and died on February 24, 1879. He has been largely credited with a dohyo-iri style he is said to have initiated and currently one of the two dohyo-iri styles performed by yokozuna. The other is the Unryu style, which is known to have been originated by the 10th yokozuna Unryu Kyukichi (1822-1890)...
Read more...

Carolyn Todd


In the midst of the makuuchi bouts on Day 13 of the Osaka Basho, I hung out in the nosebleed seats with Riho Rannikmaa, Secretary General of the Estonian Sumo Association, and his wife Renata, who very graciously acted as translator. Riho runs the Sakura Budo Club in Vinni, 8km from Rakvere (site of the Junior Amateur Sumo Championships in 2006), and is an old sensei, friend and mentor of Baruto...
Read more...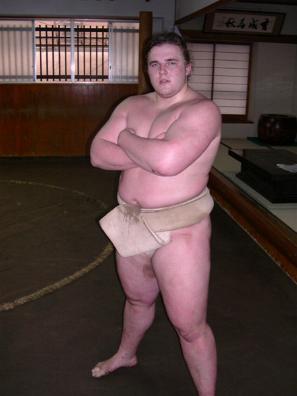 Sumo Fan Magazine, like all magazines, could
not and would not exist without its readers. To
that end, anything you think we should do, you
think we should cease to do or you think we should
never even think about doing, we want to know. Let
us know the aspects of SFM you like - articles, the
like of which, you'd like to read more of and articles
you'd never like to see again. Or, just tell us what
you want to say about sumo - we want to hear your
voice, too. As the logo at the top of our front page
says we are by the fans - FOR the fans - that's you.
We welcome your comments and will be featuring
some letters received in our soon-to-come "Letters"
feature. We may even be offering tokens of our
appreciation - sumo-related, of course, to a "Letter of
the Month". So, if you have something to say please
mail us at editor@sumofanmag.com.
Sumo Fan Magazine (SFM) logo and slogan are © Copyright 2005 by Sumo Fan Magazine. Furthermore, all submissions and other content found on this site are © Copyright 2005 SFM and the writers, photographers and artists who produced them, except where otherwise indicated. No part may be reproduced in any form, without express written permission of SFM.

You Could Be Advertising Here!


SUMO ARTIST Lynn Matsuoka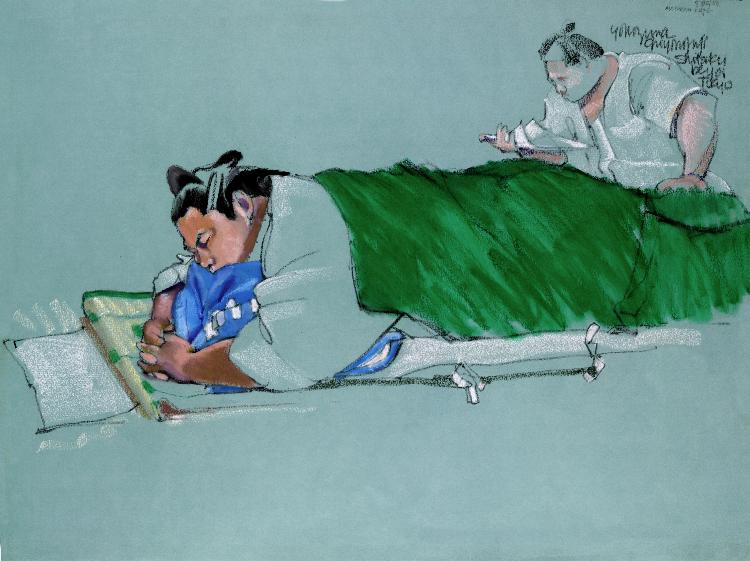 Click the image to see an invitation to Lynn's sumo art exhibition, opening in Hawaii on June 7 in honor of the jungyo
Print shown: "Chiyonofuji, Sleeping" ed. 50, large, $1600.
artist@traditions.jp
www.traditions.jp
USA 808-479-5966
Editor-in-Chief and Creative Director – Japan
Mark Buckton
Editor
Lon Howard



Assistant Editor



Carolyn Todd

Staff Writers
Eric Blair
Howard Gilbert

Chris Gould

Joe Kuroda
Todd Lambert
Mikko Mattila



Contributing Writers


Jeff Kennel
Ryan Laughton
Steven Pascal-Joiner



Contributing Photographers



Jeff Kennel

William Titus


Website System Admin & Hosting
Alisdair Davey
Magazine & Website Layout Designer
Olivia Nagioff


Cartoonists
Benny Loh
Stephen Thompson


Staff Translators
Denis Chaton – French
Juan Pablo Vieytes – Spanish
Alexander Herrmann – German


\n'); } var L10qstr,L10pc,L10ref,L10a,L10pg; L10pg=document.URL.toString(); L10ref=document.referrer; if(top.document.location==document.referrer || (document.referrer == "" && top.document.location != "")) {L10ref=top.document.referrer;} L10qStr = "pg="+escape(L10pg)+"&ref="+escape(L10ref)+"&os="+escape(navigator.userAgent)+"&nn="+escape(navigator.appName)+"&nv="+escape(navigator.appVersion)+"&nl="+escape(navigator.language)+"&sl="+escape(navigator.systemLanguage)+"&sa="+success+"&cR="+escape(cRef)+"&cRT="+escape(cRefType)+"&cPg="+escape(cPage); if(navigator.appVersion.substring(0,1) > "3") { L10d = new Date(); L10qStr = L10qStr+"&cd="+screen.colorDepth+"&sx="+screen.width+"&sy="+screen.height+"&tz="+L10d.getTimezoneOffset();} if((location.href.substr(0,6)=="https:") || (location.href.substr(0,6)=="HTTPS:")) { L10pc="https"; } else { L10pc="http"; } document.write('
');