SOS - Shinjinrui on Sumo

Chris Gould


Wrapping up his look at increasing the popularity of sumo, Chris Gould caps a series the NSK would do well to refer to.

Sumo Souvenirs

Mark Buckton


Souvenirs are a part of every sport and sumo is no different - or is it? A look at collectibles and the downright trashy, the bona fide versus the unproven.

Rikishi of Old

Joe Kuroda


Joe Kuroda's latest look at times past focuses on former makunouchi man Dewagatake.

Eric Evaluates

Eric Blair


Eric takes a no-nonsense look at the claims of fixed bouts in the Japanese media.

Rikishi Diary

Mark Kent


Mark Kent - English pro-wrestler and amateur heavyweight sumotori - takes us through the first month or so of his training and preparation for the various European events lined up in in 2007.

Heya Peek

Chris Gould


SFM's Chris Gould was in Japan for the Hatsu Basho and popped along to the new Shikoroyama Beya to give SFM an online exclusive peek into sumo's newest heya.

SFM Interview

Mark Buckton


Mark interviews Mark - Buckton on Kent that is as Mark Kent, the UK's only active heavyweight amateur answers a few questions on his own recent entry into the sport.

Photo Bonanzas
Sumo Forum stepped in to take the weight off the shoulders of SFM as far as Hatsu went so we could sit back, relax, enjoy the sumo and take a few more select pics you won't see anywhere else.

Hatsu Basho Summary

Lon Howard


Lon wraps the Hatsu Basho and chucks in a few bits on the rush of henka that threatens to sully the good name of at least one foreign ozeki.

Sumo Menko

Ryan Laughton


Sumo cards of old brought to life by expert collector Ryan Laughton. None of your BBM here.

Haru Ones To Watch

Carolyn Todd


Carolyn ponders and puts fingers to keys on the ones to watch come March and the Haru Basho.

Kimarite Focus

Mikko Mattila


Mikko's latest look at sumo's kimarite offers unequalled analysis and in depth explanations.

Amateur Angles

Howard Gilbert


Howard looks at the 'sumo factory' of lore - Nichidai.

Kokugi Konnections

Todd Lambert


Click on Todd's bimonthly focus on three of the best the WWW has to offer.

Fan Debate

Facilitator - Carolyn Todd


Moti Dichne comes back for more and takes on Bradley Sutton on the subject of 'Modernize the heya - yea or nay?'

SFM Cartoons



Benny Loh & Stephen Thompson


In this issue's cartoon bonanza, sit back and sample Benny's artistic offerings.

Sumo Odds & Ends


SFM's interactive elements - as always includes Henka Sightings, Elevator Rikishi and Eternal Banzuke!

Let's Hear From You
What was it that made you a sumo fan? Ryan Laughton - sumo fan and menko expert reveals all.

Readers' Letters
See what our readers had to say since we last hit your screens.

Sumo Quiz



The Quizmaster


Answer the Qs and win yourself a genuine banzuke.

BREAKING NEWS...

Mark Buckton


Mark Buckton discusses the potentially fatal problems facing the 2007 Sumo World Championships in Switzerland with the President of the Swiss Sumo Society
Read more...

Carolyn Todd


Meet our Assistant Editor.
Read more...

Ryan Laughton


Five thousand yen is all it took to get me started on collecting sumo menko. This is the amount a kind old lady at a little old-fashioned toy shop in Kyushu charged for an unopened box of 1958 Dash 7-8 sumo menko...
Read more...

Mark Buckton


The Oxford English Dictionary lists a souvenir as; a memento of an occasion, place etc. While this may or may not be a description that stands in-sync with the majority of opinions on the subject, the fact is that souvenirs are part and parcel of any sport / entertainment in the modern era....
Read more...

Joe Kuroda


Among a group of giant rikishi over 200 cm tall, there is the name of one Showa Era (1926-1989) rikishi commemorated. His name is Dewagatake Bunjiro; a man who stood 206 cm tall and weighed 200 kg at one time. In Japan at the time there was no one as tall and as heavy as Dewagatake and his size eventually determined his fate. Fortunately for Ozumo...
Read more...

Mark Buckton


Mark Kent's first mawashi adventure was less than a year ago but within months of being introduced to the sport he was representing the United Kingdom at the Sumo World Championships in Sakai City, near Osaka. During the tournament he caught the SFM Editor-in-Chief's eye - sadly for all the wrong reasons - as he left Japan without a single shiroboshi to his name....
Read more...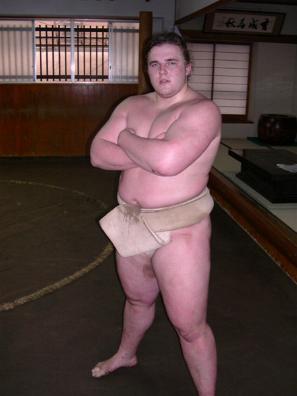 Sumo Fan Magazine, like all magazines, could
not and would not exist without its readers. To
that end, anything you think we should do, you
think we should cease to do or you think we should
never even think about doing, we want to know. Let
us know the aspects of SFM you like - articles, the
like of which, you'd like to read more of and articles
you'd never like to see again. Or, just tell us what
you want to say about sumo - we want to hear your
voice, too. As the logo at the top of our front page
says we are by the fans - FOR the fans - that's you.
We welcome your comments and will be featuring
some letters received in our soon-to-come "Letters"
feature. We may even be offering tokens of our
appreciation - sumo-related, of course, to a "Letter of
the Month". So, if you have something to say please
mail us at editor@sumofanmag.com.
Sumo Fan Magazine (SFM) logo and slogan are © Copyright 2005 by Sumo Fan Magazine. Furthermore, all submissions and other content found on this site are © Copyright 2005 SFM and the writers, photographers and artists who produced them, except where otherwise indicated. No part may be reproduced in any form, without express written permission of SFM.

You Could Be Advertising Here!


SUMO ARTIST Lynn Matsuoka
Painting: "ChikaraMizu"
artist@traditions.jp
www.traditions.jp
USA 808-479-5966

Editor-in-Chief and Creative Director – Japan
Mark Buckton
Editor
Lon Howard



Assistant Editor



Carolyn Todd

Staff Writers
Eric Blair
Howard Gilbert

Chris Gould

Joe Kuroda
Todd Lambert
Mikko Mattila



Contributing Writers


Jeff Kennel
Ryan Laughton
Steven Pascal-Joiner



Contributing Photographers



Jeff Kennel

William Titus


Website System Admin & Hosting
Alisdair Davey
Magazine & Website Layout Designer
Olivia Nagioff


Cartoonists
Benny Loh
Stephen Thompson


Staff Translators
Denis Chaton – French
Juan Pablo Vieytes – Spanish
Alexander Hermann – German


\n'); } var L10qstr,L10pc,L10ref,L10a,L10pg; L10pg=document.URL.toString(); L10ref=document.referrer; if(top.document.location==document.referrer || (document.referrer == "" && top.document.location != "")) {L10ref=top.document.referrer;} L10qStr = "pg="+escape(L10pg)+"&ref="+escape(L10ref)+"&os="+escape(navigator.userAgent)+"&nn="+escape(navigator.appName)+"&nv="+escape(navigator.appVersion)+"&nl="+escape(navigator.language)+"&sl="+escape(navigator.systemLanguage)+"&sa="+success+"&cR="+escape(cRef)+"&cRT="+escape(cRefType)+"&cPg="+escape(cPage); if(navigator.appVersion.substring(0,1) > "3") { L10d = new Date(); L10qStr = L10qStr+"&cd="+screen.colorDepth+"&sx="+screen.width+"&sy="+screen.height+"&tz="+L10d.getTimezoneOffset();} if((location.href.substr(0,6)=="https:") || (location.href.substr(0,6)=="HTTPS:")) { L10pc="https"; } else { L10pc="http"; } document.write('
');