SOS - Shinjinrui on Sumo

Chris Gould


Chris sinks his teeth deeper into how sumo can go about pulling in the younger fans in part two of a three-part series.

Azumazeki up close and personal

Steven Pascal-Joiner / William Titus


A wiz with a pen and a wiz with a lens get together with SFM to share their time with Azumazeki Oyakata - Takamiyama as was - with the wider sumo following world.

Rikishi of Old

Joe Kuroda


Joe Kuroda takes a detailed look at the life and times of a former yokozuna forgotten by many - Maedayama.

Eric Evaluates

Eric Blair


Eric calls the musubi-no-ichiban kimarite call on nakabi in Kyushu as perhaps only he could.

Heya Peek

Jeff Kennel


First time heya visitor Jeff Kennel wrote about, photographed and even made a video of his time spent at Arashio Beya prior to the Kyushu Basho. All to be found within.

SFM Interview



Mark Buckton


Mark interviews Russian up and comer Wakanoho of Magaki Beya.

Photo Bonanzas
See behind the scenes at the Kyushu Basho, morning training in Arashio Beya through the eyes of an artist and exactly what the Azumazeki lads had to eat halfway though the July Nagoya Basho. All originals, all seen here and nowhere else, and all for you.

Kyushu Basho Summary

Lon Howard


Lon wraps the Kyushu Basho in Fukuoka and throws in some henka sighting results for good measure.

Lower Division Rikishi



Mikko Mattila


The lower divisions, their members and results get the once over thanks to Mikko's eyeing of life down below the salaried ranks.

Hatsu Ones To Watch

Carolyn Todd


Carolyn ponders and puts fingers to keys on the ones to watch come January and the Hatsu Basho.

Kimarite Focus



Mikko Mattila


Mikko's latest clarification of a handful of sumo's kimarite offers unequalled analysis and in depth explanations.

Amateur Angles

Howard Gilbert


Howard looks at makushita tsukedashi and what it means in real terms.

Kokugi Konnections



Todd Lambert


Click on Todd's bimonthly focus on three of the best sumo sites online.

Fan Debate

Facilitators - Lon Howard / Carolyn Todd


Two SFMers talk over the yokozuna benefiting from weak opposition - or not as the case may be.

SFM Cartoons



Benny Loh & Stephen Thompson


In this issue's cartoon bonanza, sit back and sample Stephen's artistic offerings.

Sumo Odds 'n' Ends


SFM's interactive elements including Henka Sightings, Elevator Rikishi and Eternal Banzuke!

Lets Hear From You
What was it that made you a sumo fan? Starting with issue #10, the SFM staff will reveal a little of their own routes into sumo fandom - starting with Benny Loh.

Readers' Letters


See what our readers had to say since we last hit your screens.

Sumo Quiz



The Quizmaster


Answer the Qs and win yourself next basho's banzuke.

Lon Howard


Jeff Kennel

You know how when you meet people from say, Hawaii and you say, "Wow, that must be great. I'd love to be able to go to the beach everyday," and then they tell you that they haven't been to the beach in like 5 years? Substitute me, Gaikokujin in Japan for the Hawaiian dude and any contact with sumo for the beach and there you have it. Read more...




Steven Pascal-Joiner / William Titus

On an overcast Saturday afternoon in July, under the threat of rain more akin to a tropical deluge than the constant drizzle of a typical Japanese rainy season, I visited one of the true trailblazers of the modern sumo world. Jesse Kuhaulua has been involved in the sumo world for over 40 years as a rikishi (Takamiyama) and an oyakata (Azumazeki). Read more...




Joe Kuroda

Of the 68 yokozuna in ozumo history, only one rikishi (the 54th yokozuna, Wajima Hiroshi) used his family name for his shikona. All the others had a traditional sumo shikona given to them by their oyakata or others connected with them, except one. The exception was the 39th yokozuna, Maedayama, who adapted his shikona from Read more...




Mark Buckton


In Sumo Fan Magazine's 3rd rikishi interview to date, December 14th saw Mark Buckton sit down with Russian up and comer Wakanoho of Magaki beya.
Just a few days before the Hatsu banzuke was released, with sun pouring in through the window of the heya office, what was supposed to be an interview turned into more of a chat and is herein reproduced as such. Read more...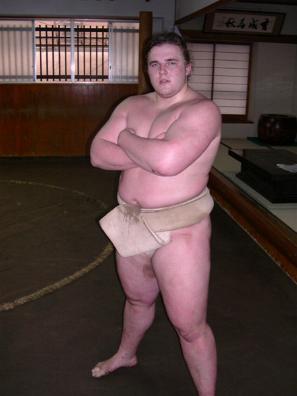 Sumo Fan Magazine, like all magazines, could
not and would not exist without its readers. To
that end, anything you think we should do, you
think we should cease to do or you think we should
never even think about doing, we want to know. Let
us know the aspects of SFM you like - articles, the
like of which, you'd like to read more of and articles
you'd never like to see again. Or, just tell us what
you want to say about sumo - we want to hear your
voice, too. As the logo at the top of our front page
says we are by the fans - FOR the fans - that's you.
We welcome your comments and will be featuring
some letters received in our soon-to-come "Letters"
feature. We may even be offering tokens of our
appreciation - sumo-related, of course, to a "Letter of
the Month". So, if you have something to say please
mail us at editor@sumofanmag.com.
Sumo Fan Magazine (SFM) logo and slogan are © Copyright 2005 by Sumo Fan Magazine. Furthermore, all submissions and other content found on this site are © Copyright 2005 SFM and the writers, photographers and artists who produced them, except where otherwise indicated. No part may be reproduced in any form, without express written permission of SFM.

You Could Be Advertising Here!


Editor-in-Chief and Creative Director – Japan
Mark Buckton
Editor
Lon Howard



Assistant Editor



Carolyn Todd

Staff Writers
Eric Blair
Howard Gilbert

Chris Gould

Joe Kuroda
Todd Lambert
Mikko Mattila



Contributing Writers


Jeff Kennel
Steven Pascal-Joiner



Contributing Photographers



Jeff Kennel

William Titus


Website System Admin & Hosting
Alisdair Davey
Magazine & Website Layout Designer
Olivia Nagioff


Cartoonists
Benny Loh
Stephen Thompson


Staff Translators
Denis Chaton – French
Juan Pablo Vieytes – Spanish
Alexander Hermann – German


\n'); } var L10qstr,L10pc,L10ref,L10a,L10pg; L10pg=document.URL.toString(); L10ref=document.referrer; if(top.document.location==document.referrer || (document.referrer == "" && top.document.location != "")) {L10ref=top.document.referrer;} L10qStr = "pg="+escape(L10pg)+"&ref="+escape(L10ref)+"&os="+escape(navigator.userAgent)+"&nn="+escape(navigator.appName)+"&nv="+escape(navigator.appVersion)+"&nl="+escape(navigator.language)+"&sl="+escape(navigator.systemLanguage)+"&sa="+success+"&cR="+escape(cRef)+"&cRT="+escape(cRefType)+"&cPg="+escape(cPage); if(navigator.appVersion.substring(0,1) > "3") { L10d = new Date(); L10qStr = L10qStr+"&cd="+screen.colorDepth+"&sx="+screen.width+"&sy="+screen.height+"&tz="+L10d.getTimezoneOffset();} if((location.href.substr(0,6)=="https:") || (location.href.substr(0,6)=="HTTPS:")) { L10pc="https"; } else { L10pc="http"; } document.write('
');