Sumo Souvenirs

Mark Buckton


Second of a two parter on sumo souvenirs - some hints on avoiding the fluff.

Konishiki

Chris Gould


Takamiyama's 60s / 70s successes notwithstanding Konishiki was sumo's first full-on mover and shaker from lands afar leaving Chris G to take an in-depth look at the ripples the big guy left behind when exiting the sumo pool.

Rikishi of Old

Joe Kuroda


Joe Kuroda's looks back at the life and times of former yokozuna Shiranui.

Eric Evaluates

Eric Blair


Eric IDs the true winners of the henkafest that was the Haru Basho senshuraku.

Rikishi Diary

Mark Kent


Mark Kent - English pro-wrestler and amateur heavyweight sumotori - takes his training a step further on his road to European and World sumo glory.

Heya Peek

Mark Buckton


Oitekaze Beya just to the north of Tokyo and not far from the abode of SFM's Ed-i-C falls under the microscope.

SFM Interview

Carolyn Todd


Carolyn interviews Riho Rannikmaa during his recent trip to Osaka - head of all things sumo in Estonia, friend and mentor of Baruto, this is a man with something to announce.

Sumo à la LA

Alisdair Davey


SFM's man in the shadows reports on his recent jaunt in LA, as guest of the Californian Sumo Association and SFM reporter at large.

Photo Bonanzas
Hot on the heels of the recent Ise bonanza - Haru up close and very very personal - some of our best pics to date.

Haru Basho Summary

Lon Howard


Lon wraps the Haru Basho and chucks in a few bits on the henka issues the top dogs are suffering from at present.

Sumo Menko

Ryan Laughton


Sumo cards of old brought to life once again by expert collector Ryan Laughton. None of your BBM offerings here - Pt II of III.

Natsu Ones To Watch

Carolyn Todd


Carolyn ponders the ones to watch come May and Natsu when sumo comes home to Tokyo.

Kimarite Focus



Mikko Mattila


Mikko's latest look at sumo's kimarite offers unequalled analysis and in depth explanations.

Amateur Angles

Howard Gilbert


On your marks, get set, go - Howard Gilbert walks us through the months ahead on the amateur calendar.

Kokugi Konnections

Todd Lambert


Click on Todd's latest selection of the best sumo sites the WWW has to offer.

Fan Debate



Facilitator - Carolyn Todd


Should it or shouldn't it? Honbasho go on the overseas road that is. See what SFM's Chris Gould and James Hawkins have to say.

SFM Cartoons

Benny Loh & Stephen Thompson


In this issue's cartoon bonanza, sit back and sample ST's latest artistic offerings.

Sumo Odds & Ends


SFM's interactive elements - as always includes Henka Sightings, Elevator Rikishi and Eternal Banzuke!

Let's Hear From You
What was it that made you a sumo fan - A. S. - the face in the crowd reveals almost all - to see everything you'll have to close your eyes.

Readers' Letters
See what our readers had to say since we last hit your screens.

Sumo Quiz



The Quizmaster


Answer the Qs and win yourself a genuine banzuke.


Eine Katastrophe ausgenommen sollte er dann eine ordentliche Beförderung zum Nagoya Basho erhalten, und vielleicht wir diese Verzögerung eine gute Zeit für ihn sein, sich zu sammeln – und seinem Haar etwas Zeit zum Wachsen zu geben! Dieser Mage wird noch lange auf sich warten lassen…






Homasho


11-4 und ein weiterer Sansho! Es könnte gerade genug sein, um seinen ersten Auftritt als Komusubi zu sichern, oder auch nicht – es wird daran liegen, wie sich die Dinge




entwickeln. Wie auch immer, er wird da oben mit den schweren Jungs sein und wird sicher sein Ziel erreichen, auf den Yokozuna zu treffen. Er ist nun seit einem Jahr in der Makuuchi und scheint endlich Fuß zu fassen. Er kam als M11, fiel auf M14, zurück



auf M11 für zwei Basho, sprang auf M4, kurzer Rückschritt auf M5 – und jetzt, wer weiß? Und wie sich die Zeiten ändern! Er wurde zusammen mit Baruto befördert, der die Banzuke hinaufschoss und dann wieder stürzte, während Homasho still und ergeben Ergebnisse und Sansho sammelte. Er traf bisher nie auf mehr als zwei Ozeki in einem Basho, und so wird es interessant, wie er mit der vollen Packung (vorausgesetzt, wir haben sie!) plus Asashoryu zurechtkommt.






Tochiozan


Nach einem kurzen 3-Basho-Galopp durch die Juryo erreichte der 20-jährige Tochiozan in seinem ersten Makuuchi-Basho ein 11-4 auf M14 und wird zum Natsu Basho eine ordentliche Beförderung erhalten. Wird sich das als einer dieser Debut-Basho-Glücksfälle herausstellen oder wird er weiter die Banzuke hinaufstürmen?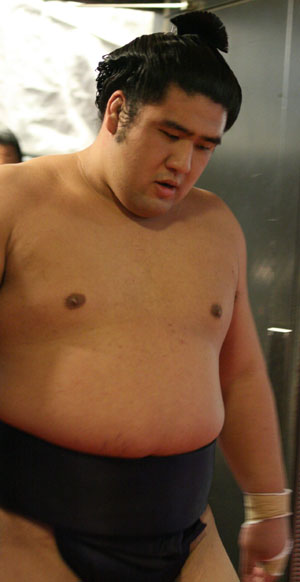 Tochiozan

Er verlor in der ersten paar Tagen gegen Shimotori und Tokitsuumi, kam dann aber in Fahrt, die erst von Roho am 13. Tag gestoppt wurde, und dann von Kotomitsuki. Er wurde




spielend mit den niederen Rängen fertig, aber wird er es mit einem konstanten Ansturm von erfahreneren Sekitori aufnehmen können?



Hoshihikari


Nach seiner Verletzung kam Hoshihikari stärker, schwerer und mit mehr Substanz zurück, untermauert von seinen ständig beeindruckenden Ergebnissen in den letzten paar Basho, und er gewann das Makushita-Yusho gegen Matsutani klar, obwohl es einen kniffligen Monoii-Moment gab. Das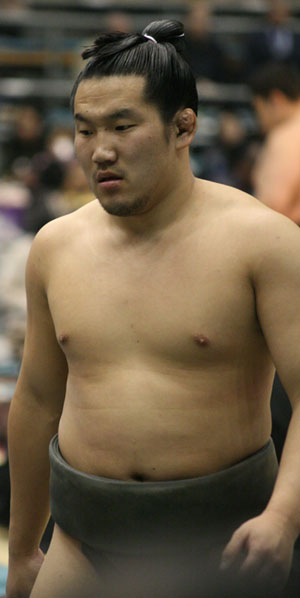 Yusho war so eine großartige Leistung, und die Menge applaudierte, als der Kampf angekündigt wurde, aber als Hoshihikari den Hanamichi entlang zurückging, gab keine einzige Person einen Laut von sich, kein Applaus, kein Garnichts. Im Natsu Basho sollte er ganz oben in der Makushita stehen, und wenn seine Form anhält, werden wir ihn bald mit einem Oicho-Mage sehen!